The 2023 BMW M2 (UK-Spec): A Potent Upgrade in the Premium Compact Segment
BMW has unveiled the newest version of its M2 model in the United Kingdom, showcasing a continuation of its predecessor's excellence. The 2023 BMW M2 showcases upgraded specifications and heightened performance, establishing a more dominant position within the premium compact high-performance category. Concealed beneath its sleek exterior is a twin-turbo, straight-six 3.0-liter engine, which offers a substantial power boost of 90hp compared to the original M2, resulting in an impressive output of 460hp.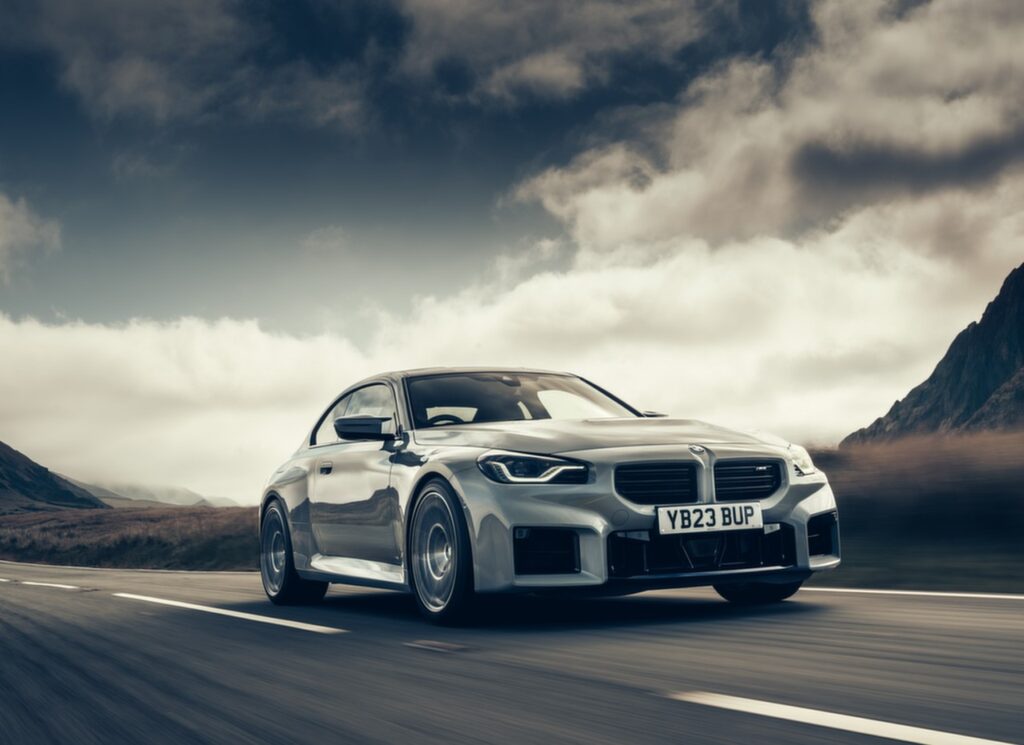 Rekindling the Spirit of High-Performance Sports Cars
In the realm of driving enjoyment, the 2023 BMW M2 embodies the essence perfectly. With its compact yet sturdy build, this vehicle accommodates a strong six-cylinder in-line engine, providing an authentic high-performance sports car experience, especially for enthusiasts who prefer a manual gearbox. An advanced control and operating concept empower drivers to easily customize the vehicle's settings, ensuring a truly individualized and tailored driving journey. Moreover, its captivating design exudes a commanding presence, effectively conveying its segment-leading power even when at a standstill.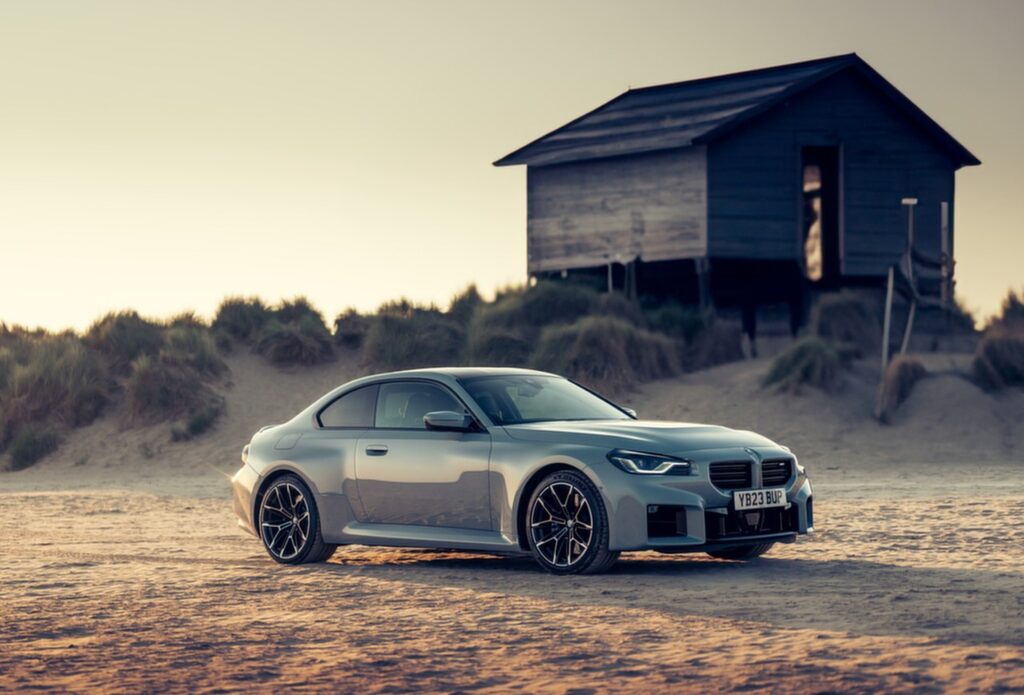 Packed with More Power and Sophisticated Technology
The M2 is equipped with an astonishing 460hp, a significant increase of 90hp compared to the original M2's base engine. This remarkable power is derived from a high-revving, twin-turbo 3.0-liter engine, meticulously refined by BMW's M TwinPower Turbo technology. With a peak torque of 550Nm available between 2,650 and 5,870rpm, the engine delivers exceptional performance across a wide range of driving conditions. The engine's design is a testament to BMW M GmbH's extensive motorsport expertise, featuring a rigid crankcase, friction-optimized cylinder bores, and a lightweight, forged crankshaft. These meticulous design elements contribute to the engine's impressive power output and its ability to rev to high RPMs, ensuring an exhilarating driving experience.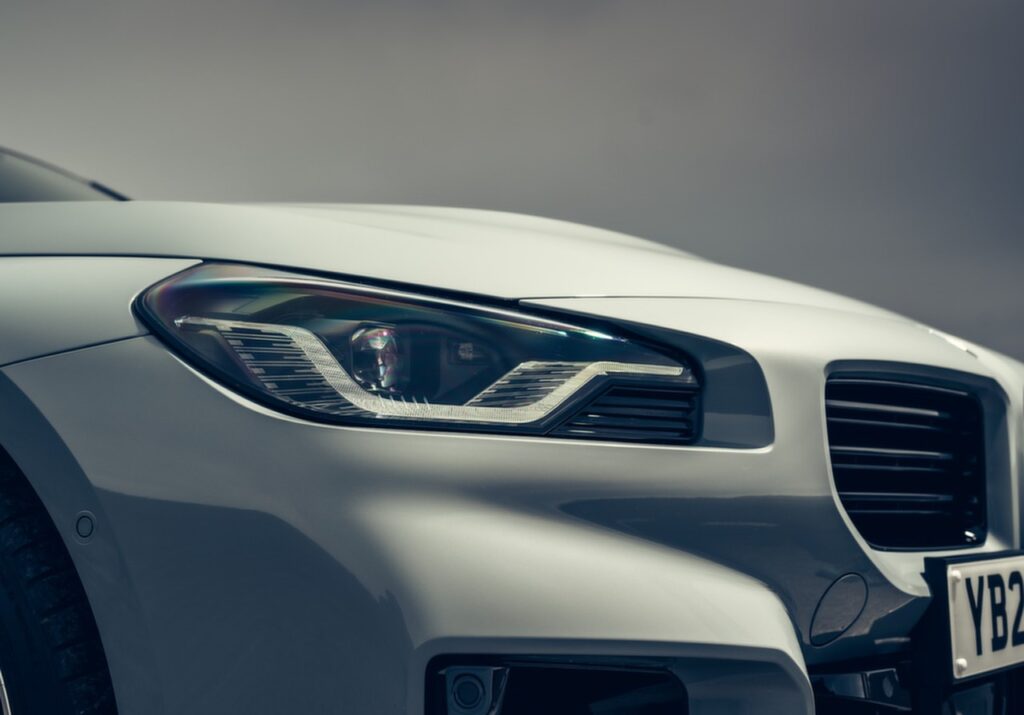 Driving Dynamics and Control
To enhance the inherently dynamic driving experience of the M2 model, BMW has incorporated the Active M Differential as a standard feature. This advanced system enables precise control of rotational speed compensation between the rear wheels, allowing for a locking effect of up to 100 percent when necessary. By actively managing power distribution, the Active M Differential enhances traction and stability during cornering and acceleration, resulting in improved handling and agility.
In addition to the Active M Differential, the M2 model also benefits from M-specific cooling and oil supply systems. These specialized systems work in harmony to maintain the powertrain components at their optimal operating temperatures, even in demanding driving scenarios. This ensures that the engine, transmission, and other critical components function efficiently and reliably, further enhancing the vehicle's performance capabilities. Whether on winding roads or the racetrack, the M2 is equipped with these technological advancements to deliver an exceptional driving experience.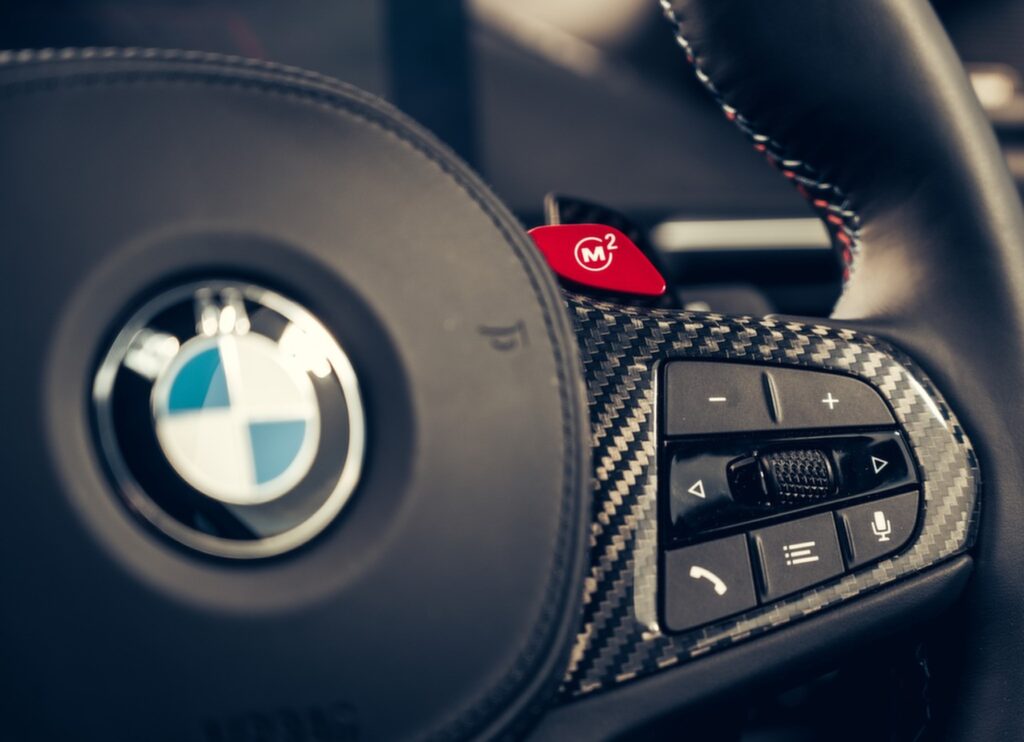 Enhanced Transmission and Improved Braking
The M2 model is equipped with an eight-speed M Steptronic transmission with Drivelogic as the standard configuration. This advanced transmission system enables seamless and swift gear changes, optimizing performance and fuel efficiency. However, for those who prefer a more engaging and traditional driving experience, BMW also offers the option of a six-speed manual gearbox. This manual transmission allows drivers to have greater control over gear selection, enhancing the connection between the driver and the vehicle.
Furthermore, the M2 incorporates the M-specific integrated braking system. This innovative braking system integrates the brake activation, brake booster, and braking control functions into a single compact module. As a result, the integrated braking system offers two pedal feel settings, allowing drivers to choose between Comfort and Sport modes. These settings provide different levels of pedal feedback and response, ensuring precise and confident braking performance in various driving situations. The M-specific integrated braking system adds to the overall performance and driving dynamics of the M2, delivering exceptional braking capabilities and enhancing the driver's confidence on the road or track.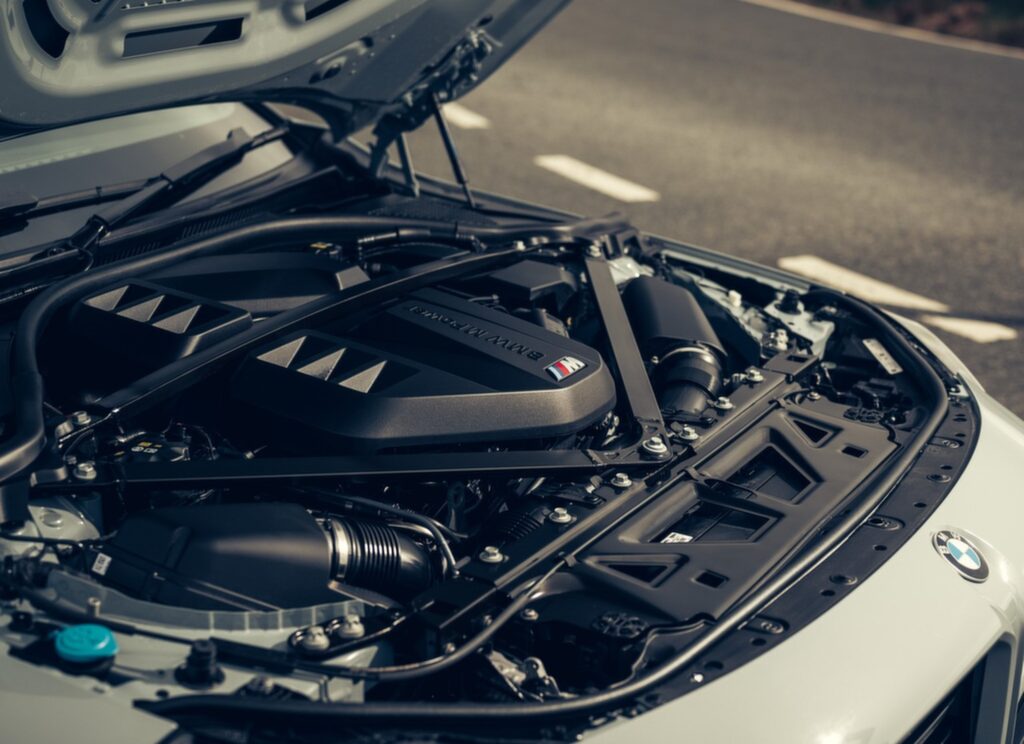 Impressive Design and Functional Aesthetics
The M2 model proudly displays its sporty credentials through its compact dimensions, commanding proportions, and a host of M-specific design elements that not only enhance its visual appeal but also optimize cooling air routing and aerodynamic balance. The front end of the M2 is particularly notable, showcasing a large, horizontal and frameless BMW kidney grille that exudes a sense of power and presence. Additionally, it features elements of the M-typical three-section lower air intake, which serves the crucial function of maximizing cooling for the powertrain components and brakes.
These design features are carefully crafted to ensure efficient airflow and cooling, enabling the M2 to perform at its best in demanding driving conditions. By optimizing the cooling of crucial components, BMW emphasizes the model's capability for high-performance driving.
These distinct design elements also set the M2 apart from the standard BMW 2 Series Coupé, underscoring its exclusive and performance-focused nature. The M2's design language and functional aesthetics combine to create a visually striking and purposeful appearance, signaling its unique position within the BMW lineup and further enhancing its sporty appeal.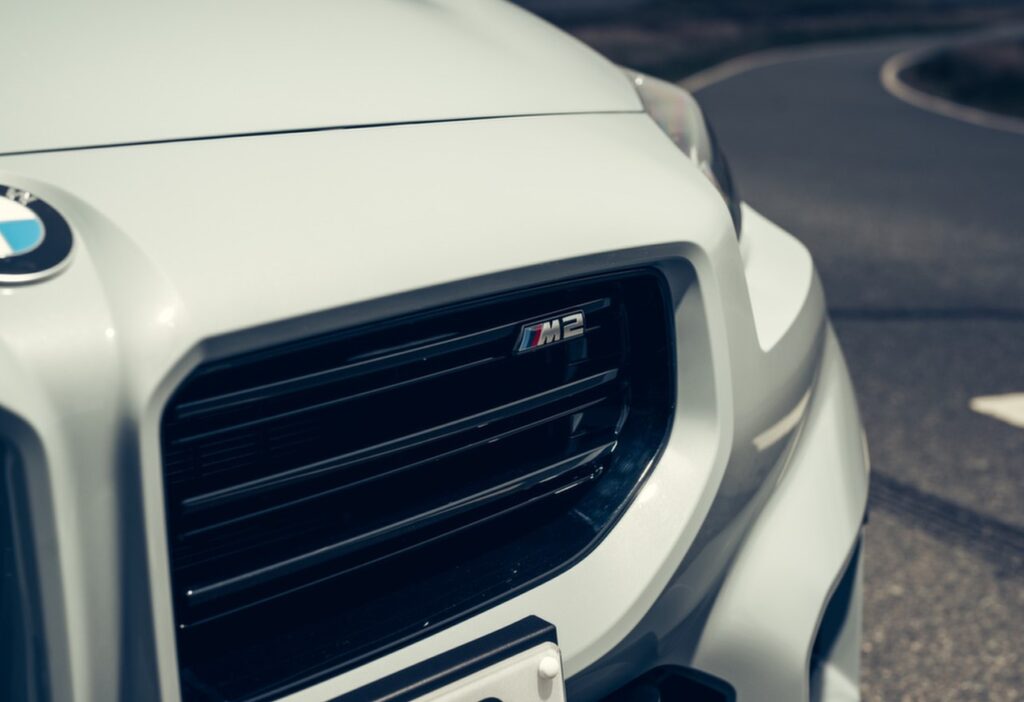 Athleticism Meets Affordability
With a starting price of £64,890 OTR, the 2023 BMW M2 embodies the core philosophy of BMW by blending dynamic driving dynamics with affordability. This newest iteration from BMW M GmbH builds upon the achievements of its predecessor, providing an even more captivating driving experience and a substantially improved standard specification.
The 2023 BMW M2 not only meets the desires of those seeking a sporty and agile driving companion but also offers exceptional value within the premium compact segment. It caters to drivers who yearn for a high-performance machine without compromising on the financial aspect.
By combining athletic driving dynamics with a competitive price point, BMW ensures that the M2 is accessible to a broader range of driving enthusiasts. The 2023 model maintains the M2's reputation for delivering a thrilling driving experience while offering an enhanced standard specification, making it an enticing proposition for those in the market for a premium compact vehicle.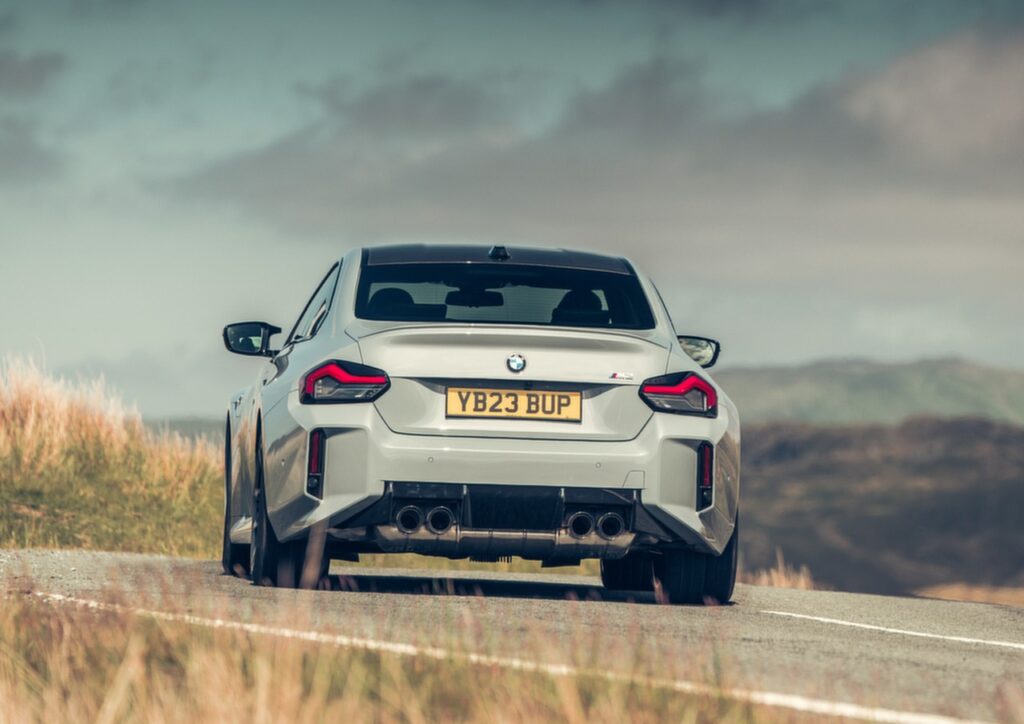 Luxurious Interior
In addition to its impressive performance, the new BMW M2 boasts a luxurious interior that exudes both comfort and sportiness. The cabin is adorned with high-quality M-specific upholstery, elevating the overall ambiance to a level of sophisticated sportiness.
The standard M sport seats are designed to provide excellent lateral support, ensuring a secure and comfortable driving experience. These seats are equipped with integrated headrests, further enhancing the sleek and streamlined appearance of the interior.
To complement the sporty atmosphere, the interior features an ergonomically optimized M leather steering wheel. This steering wheel not only provides a comfortable grip but also includes multifunction buttons for convenient control of various vehicle features. The presence of the iconic M logo on the steering wheel adds a touch of exclusivity and further reinforces the sporty character of the M2's interior.
With a focus on both luxury and performance, the BMW M2 offers a well-appointed interior that combines premium materials, supportive seating, and intuitive controls. Whether you're enjoying a spirited drive or embarking on a long journey, the M2's interior ensures a refined and engaging experience for both driver and passengers.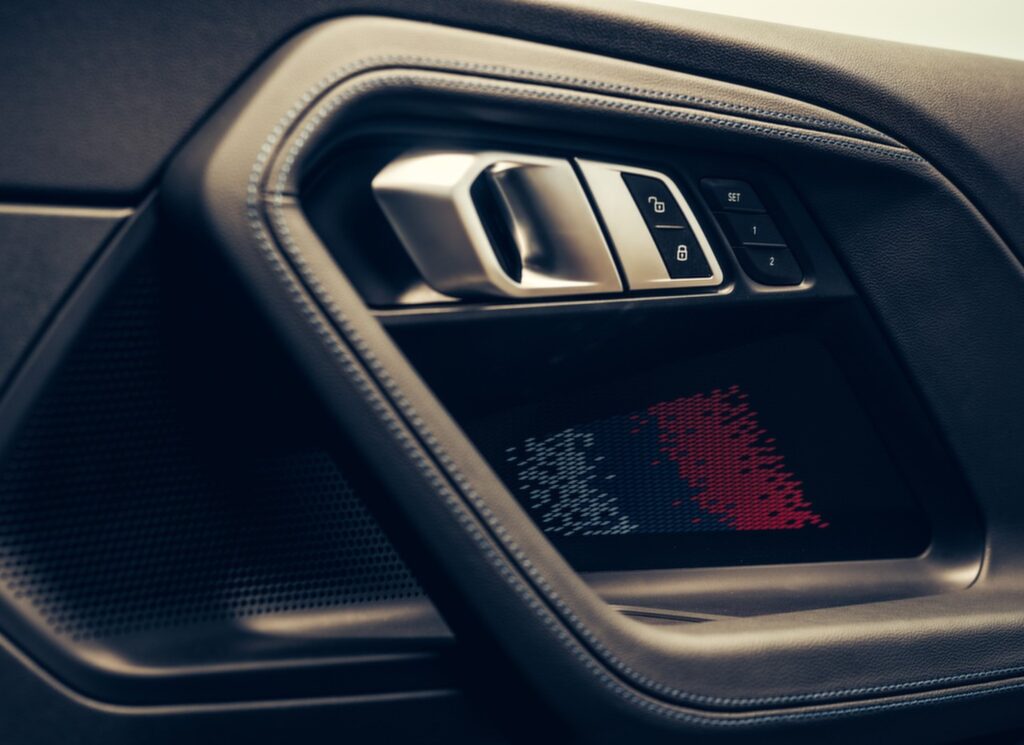 Smart Connectivity and Advanced Safety Features
The 2023 BMW M2 is equipped with the latest iteration of BMW's iDrive system, which combines advanced technology with intuitive controls. The centerpiece of the system is the high-resolution digital 12.3″ instrument cluster, which provides clear and customizable information to the driver. The Control Display, measuring 10.25″, serves as the central hub for accessing various vehicle functions and settings.
Enhancing the user experience, the BMW Intelligent Personal Assistant is integrated into the M2. This intelligent assistant can be controlled using voice commands, touch inputs, or gestures, allowing for seamless interaction with the vehicle's features and functions. The Intelligent Personal Assistant can provide information, perform tasks, and even engage in casual conversation, adding convenience and ease to the driving experience.
Moreover, the M2 model offers a comprehensive suite of safety and driver assistance systems. These include features such as lane departure warning, collision and pedestrian warning with city braking function, and speed limit information. These advanced systems enhance safety and provide an extra layer of reassurance and comfort for the driver and passengers.
With the integration of the latest iDrive system, the BMW Intelligent Personal Assistant, and a range of safety features, the 2023 BMW M2 delivers a technologically advanced and user-friendly driving experience, combining convenience, safety, and cutting-edge innovation.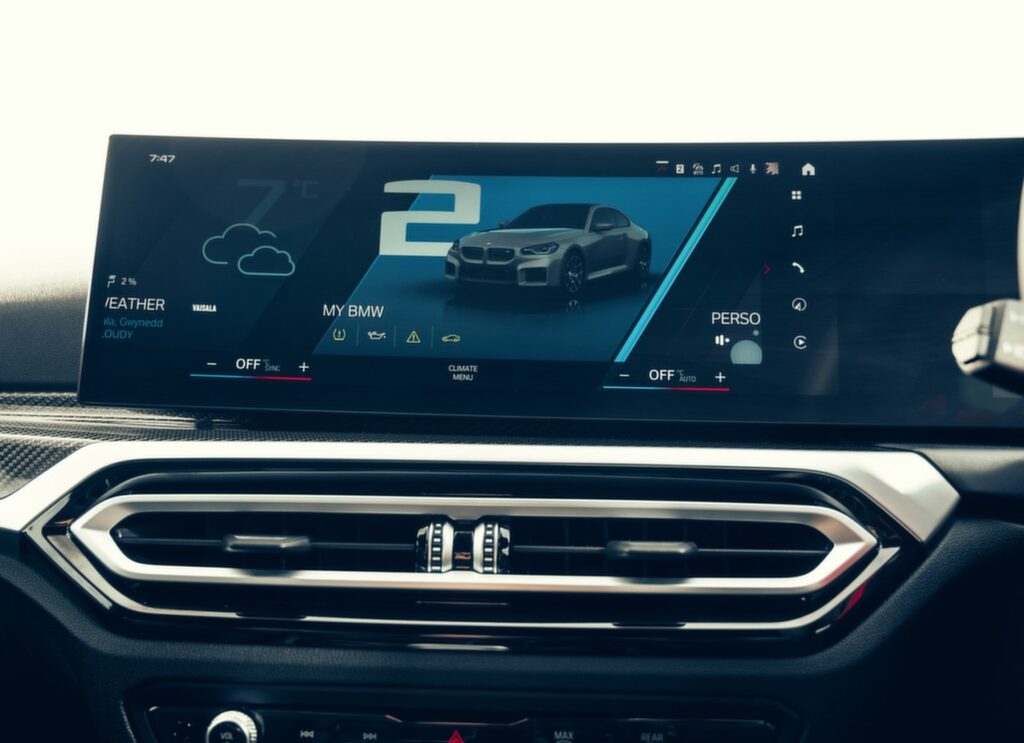 Distinctive Aesthetic and Weight-Saving Measures
The new BMW M2 embraces a bold and dynamic exterior design, showcasing its sporty character with confidence. Key design elements contribute to its striking appearance, starting with the wide wheel arches and prominent side skirts that draw inspiration from racing cars, emphasizing its performance-oriented nature.
The M2's overall proportions play a significant role in its visual appeal. The long bonnet, short overhangs, and set-back passenger compartment create a sense of athleticism, while the roofline elegantly sweeps down from the B-pillar, further accentuating its sporty silhouette. The short boot lid is adorned with a pronounced spoiler lip, adding a touch of aerodynamic flair to the rear of the vehicle.
To emphasize its commitment to weight-saving measures, the M2 comes standard with a lightweight M Carbon roof. This roof features an exposed carbon-fiber-reinforced plastic (CFRP) structure with a central cut-out, not only enhancing its visual distinctiveness but also contributing to improved performance by reducing weight.
At the rear, the M2 exhibits horizontally pronounced surfaces that exude an M-specific aesthetic. The vertically arranged reflectors, integrated into the outer edges of the rear apron, add a distinctive touch. A rear spoiler lip provides additional downforce at the rear axle, enhancing stability and traction. The standout feature of the rear end is the pronounced diffuser insert, which not only creates a race-inspired look but also integrates two pairs of exhaust tailpipes, a signature M design element that signifies the vehicle's performance capabilities.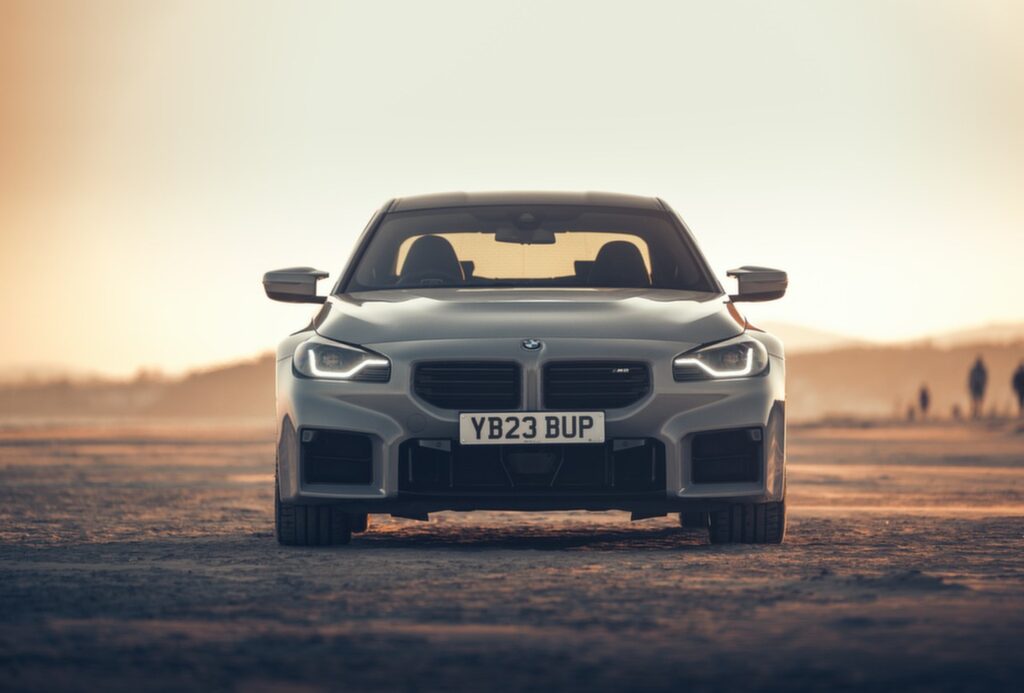 Color Options and Exquisite Interiors
The new BMW M2 offers a range of exterior paint options, including two solid colors and three metallic shades. The solid color options consist of Alpine White, which exudes a clean and classic look, and the exclusive Zandvoort Blue, adding a bold and distinctive touch. The metallic shades available are Sapphire Black, Brooklyn Grey, and Toronto Red, providing a wider range of sophisticated and stylish choices for customers.
Moving to the interior, the sporty aesthetic of the M2 continues to impress. The standard M Sport seats, upholstered in either Vernasca Black or Cognac leather, provide a combination of comfort and style. These seats feature pronounced side bolsters and contour lines in BMW M GmbH colors, enhancing their visual appeal and sporty character. Additionally, the seats are heated and electrically adjustable, ensuring optimal comfort for the driver and passengers. The integral head restraints with an illuminated M logo further add to the seats' exclusive and sporty design.
For customers seeking even greater weight savings and a track-inspired look, the M2 offers the option of M Carbon bucket seats. These seats feature Merino leather coverings for enhanced comfort and style, as well as integrated head restraints with an illuminated model badge. The structural elements of the seats utilize carbon-fiber-reinforced plastic (CFRP), emphasizing their racing credentials while reducing weight by 10.8 kilograms.
Practicality and convenience are not compromised in the M2, as it includes an Easy-Entry function and a 40:20:40 split rear backrest, allowing for flexibility and increased cargo space when needed. The standard M interior trim strips in Carbon Fibre further enhance the sporty ambiance of the cabin, adding a touch of sophistication and refinement.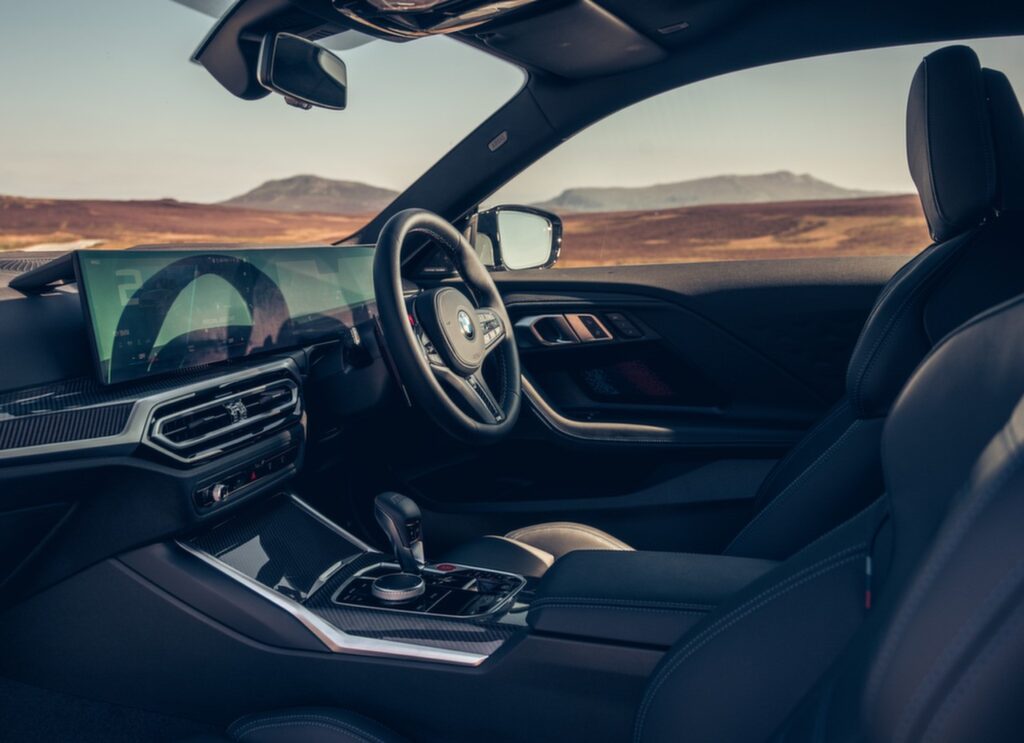 Advanced Comfort and Safety Features
The 2023 BMW M2 prioritizes comfort, convenience, and safety with its range of standard and optional features. The standard equipment includes three-zone automatic climate control, allowing passengers to individually adjust their preferred temperature settings. Acoustic glazing for the windscreen helps to reduce outside noise and enhance cabin tranquility. A rain sensor automatically activates the headlights when rain is detected, ensuring optimal visibility in inclement weather conditions. Ambient lighting sets the mood inside the cabin, creating a pleasant and inviting atmosphere.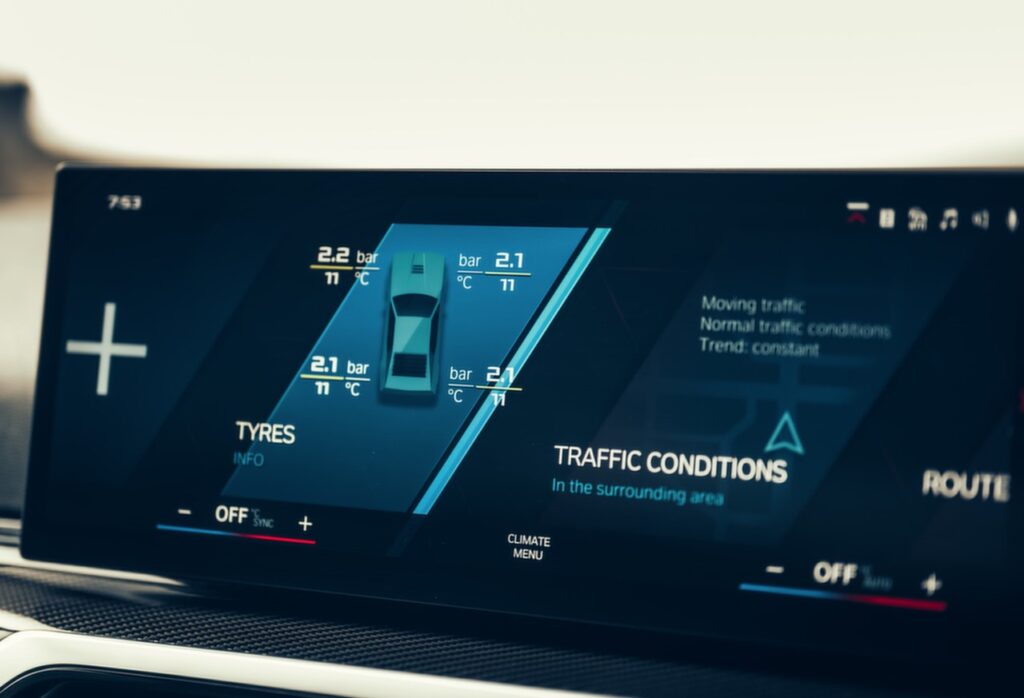 In terms of entertainment, the M2 comes equipped with the Harman Kardon Surround Sound System, delivering exceptional audio quality for an immersive driving experience. The inclusion of a Bluetooth interface and two USB ports provides convenient connectivity options for audio streaming and device charging. Wireless charging for compatible smartphones is available as an optional feature, allowing for convenient and cable-free charging on the go.
When it comes to safety and comfort during long journeys, the M2 offers a range of advanced features. The Parking Assistant, rearview camera, and sensors assist in maneuvering the vehicle into parking spaces with ease. Cruise Control with brake function maintains a set speed while automatically adjusting the vehicle's speed to maintain a safe distance from the vehicle ahead. Front Collision Warning with brake intervention helps mitigate the risk of frontal collisions by providing alerts and automatically applying the brakes if necessary. Lane Departure Warning, including lane return, alerts the driver if the vehicle unintentionally drifts out of its lane and can even assist in steering the vehicle back into the lane. The Attentiveness Assistant monitors driver behavior and provides alerts if signs of fatigue are detected. The Speed Limit Display with no-overtaking indicator and Manual Speed Limit Assist keep the driver informed about speed limits and provide additional support in adhering to them.
For additional safety and convenience, the optional Driving Assistant package offers features such as Lane Change Warning, Rear Crossing Traffic Warning, and Rear Collision Prevention functions. The Active Cruise Control system with Stop & Go function maintains a pre-set cruising speed while automatically adjusting the distance to the vehicle ahead, providing added convenience during highway driving.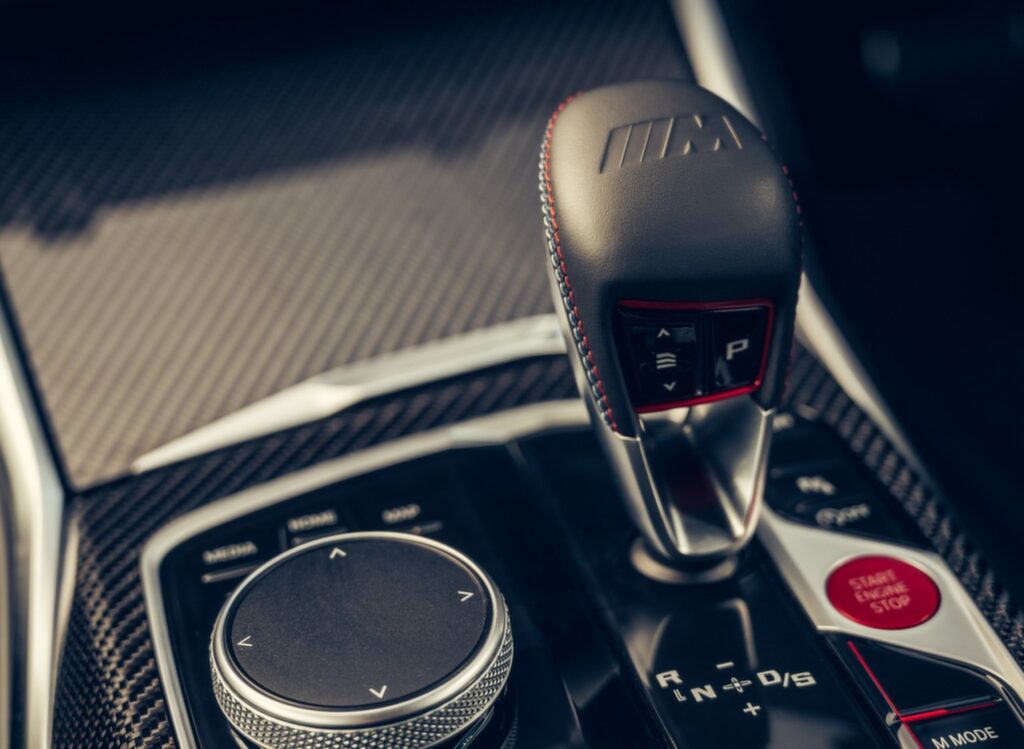 Performance Features and Digital Connectivity
The BMW M2 offers several features and options to enhance the driving experience and connectivity. The dedicated Setup button allows drivers to customize various aspects of the vehicle, including the powertrain, chassis, steering, braking system, and traction control, enabling a personalized driving experience. The M Mode button provides access to SPORT mode and TRACK mode, specifically designed for race circuits, reducing the range of driver assistance system functions to maximize performance.
For those seeking a more track-oriented experience, the optional M Racetrack Package is available. It includes M Carbon bucket seats for increased support during spirited driving, performance track tires for the alloy wheels, and the M Driver's Package, which raises the electronically limited top speed from 155mph to 177mph.
The BMW Live Cockpit Professional, based on BMW Operating System 8, offers advanced connectivity and data processing capabilities. The iDrive system provides intuitive control of various vehicle functions, including navigation, infotainment, and communication. The standard BMW Curved Display consists of a 12.3-inch information display and a 14.9-inch control display, providing a visually appealing and user-friendly interface.
Connectivity features include the cloud-based BMW Maps navigation system and an M-specific Head-Up Display, which projects important information onto the windshield for easy viewing. Smartphone integration for Apple CarPlay® and Android Auto™ allows seamless integration of compatible devices with the car's infotainment system.
The BMW Intelligent Personal Assistant has improved skills, allowing drivers to control the air conditioning and windows through voice commands. The ID and My BMW App provide a personalized user experience, and BMW ConnectedDrive Upgrades enable over-the-air updates to bring new and improved features to the M2 without requiring a visit to the dealership.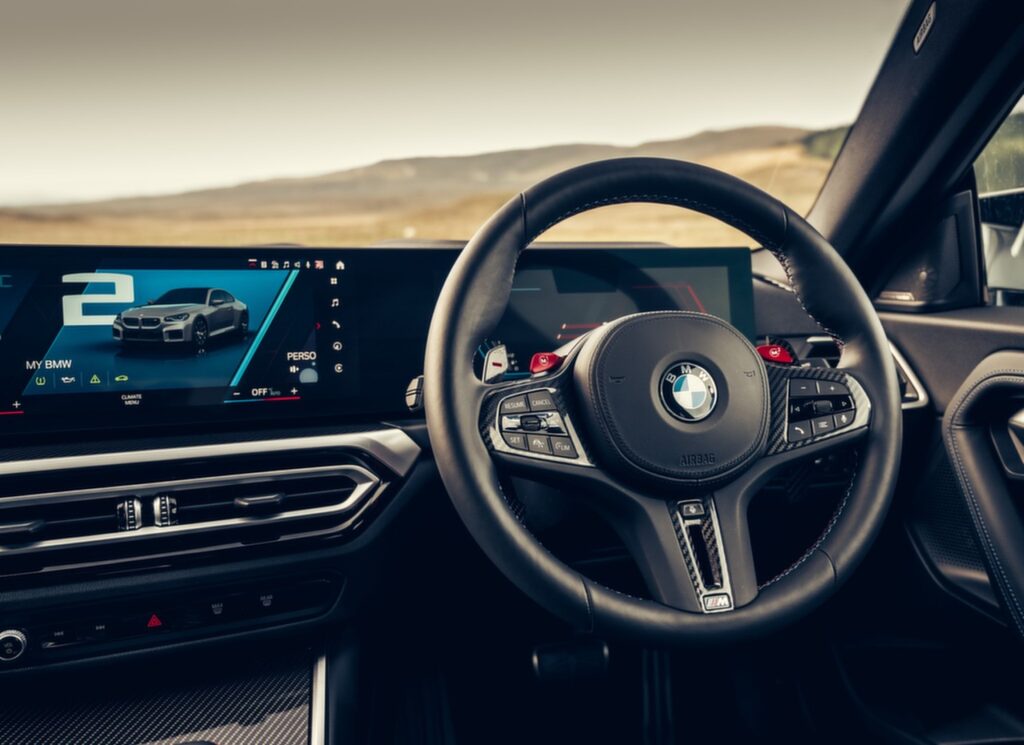 Final Thoughts: Power Meets Elegance in the 2023 M2
The 2023 BMW M2 embodies the essence of the renowned M car lineage by delivering a harmonious fusion of power, luxury, technology, and distinctive design. It presents an irresistible package that appeals to enthusiasts seeking a versatile, dynamic, and gratifying driving experience. Combining performance and practicality, the M2 caters to everyday usability while still providing an exhilarating thrill on the open road.
Inside the cabin, luxurious materials and meticulous craftsmanship create an atmosphere of refined comfort. The advanced technology, including the latest infotainment system and connectivity features, ensures seamless integration with modern digital lifestyles.
From the outside, the BMW M2's track-inspired aesthetics make a bold statement, capturing attention and expressing its performance potential. The perfect balance between aggressive lines and elegant proportions showcases its sporty character.
The 2023 BMW M2 sets a new standard in the premium compact segment, offering a compelling choice for those who crave the perfect blend of performance, luxury, and style. With its availability in the UK, drivers have the opportunity to experience a world where sportiness meets sophistication and embark on a thrilling journey that combines the best of both worlds.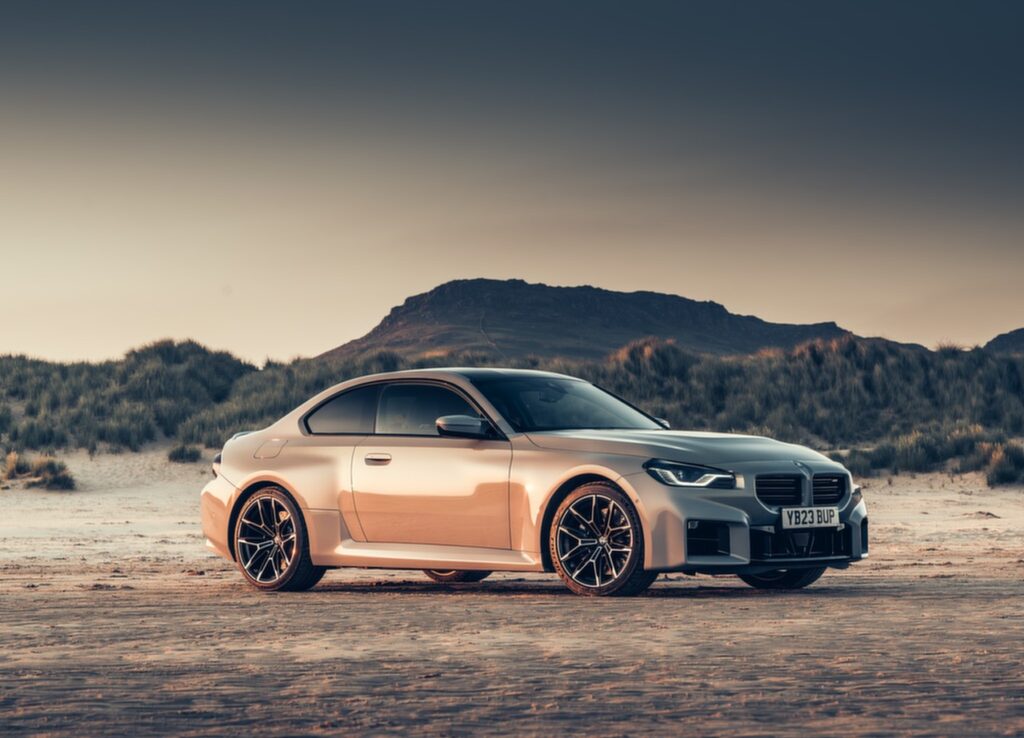 At Ineax Motors Limited we offer a handpicked selection of high-quality cars all inspection-certified, professionally presented and competitively priced. Browse through our inventory for a great selection of high-quality cars.