Audi Raises the Bar with the 2024 RS 6 Avant Performance and RS 7 Sportback Performance
Audi of America has caused a sensation in the automotive industry by introducing the latest and most powerful iterations of its renowned RS 6 and RS 7 models. These vehicles stand out from their predecessors with an impressive combination of power, performance, and distinctive design features. Furthermore, Audi has unveiled the Bronze edition, exclusively available in the United States, which adds an extra layer of exclusivity to their already impressive portfolio.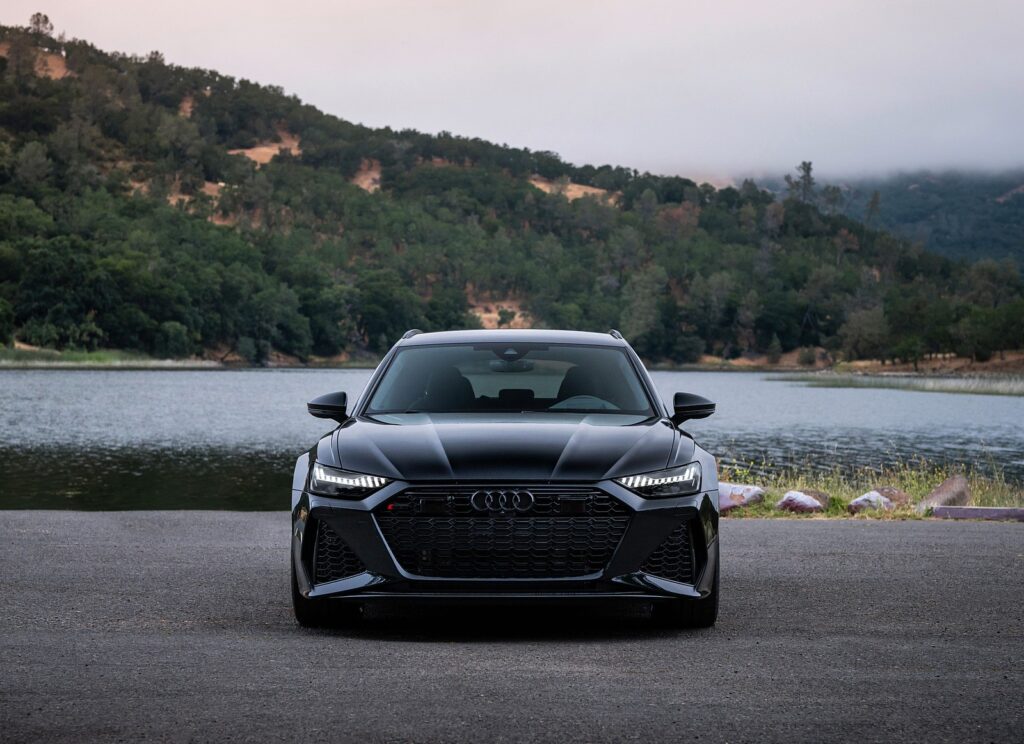 Performance Upgrades Galore
Audi has taken the pursuit of performance to new heights with the 2024 RS 6 Avant Performance and RS 7 Sportback Performance. Dedicated to enhancing the driving experience, Audi's engineers have achieved some remarkable improvements. The formidable 4.0-liter biturbo V8 engine now delivers an additional 30 horsepower and 37 lb-ft of torque, resulting in an awe-inspiring total output of 621 horsepower and 627 lb-ft of torque. This power boost has also trimmed the 0-60 mph time to an impressive 3.3 seconds, a reduction of two-tenths of a second. Clearly, these models are built for delivering an exhilarating adrenaline rush.
Beyond the power upgrades, Audi has made significant adjustments to elevate the dynamic qualities of these performance versions. The self-locking center differential has been updated to enhance cornering control, while the transmission control unit has been revamped to reduce shifting times, ensuring seamless performance. To amplify the driving experience, Audi has dialed down the sound insulation, allowing drivers to revel in the captivating symphony produced by the potent V8 engine. An optional RS sport exhaust is available for those seeking a more aggressive soundtrack, adding a touch of intensity to the driving soundtrack.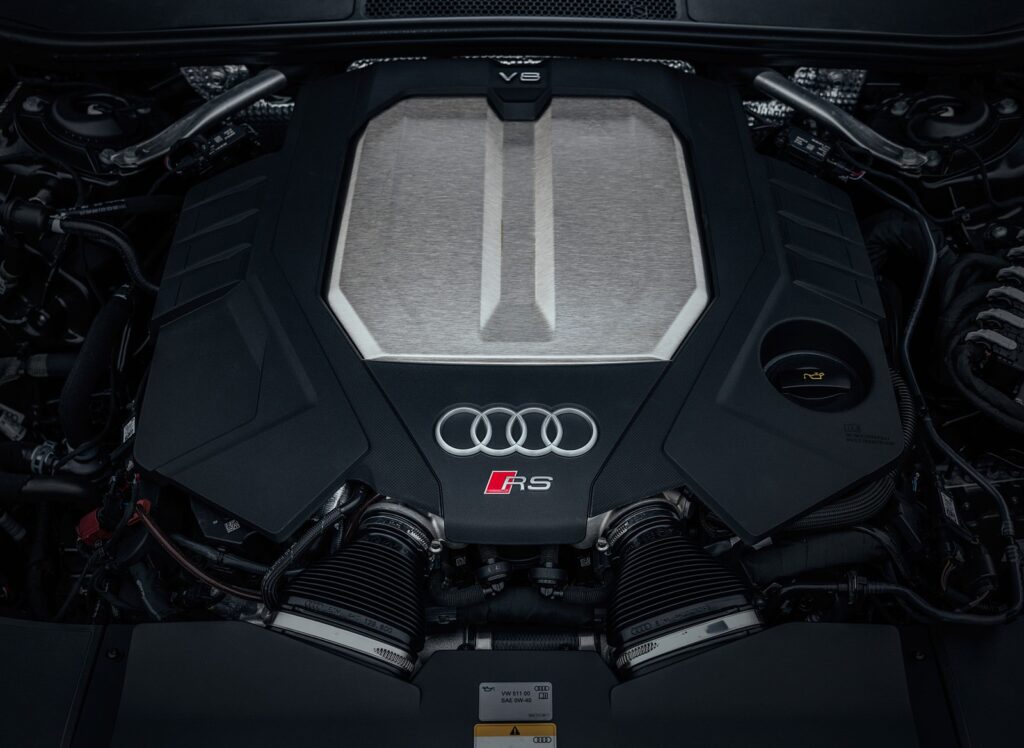 Distinctive Exterior Design
In addition to their outstanding performance, the RS 6 Avant Performance and RS 7 Sportback Performance make a striking visual statement. Audi has introduced a range of updates to enhance their aesthetic appeal. Notably, new exterior colors and revised trim elements add a unique touch to these high-performance models. Among the standout color options are the eye-catching Grenadier Red metallic and Ascari Blue metallic, which offer fresh and captivating visual expressions.
When it comes to wheels, Audi offers customers an array of choices, including several 22-inch options. These lightweight forged wheels add to the visual appeal and reduce unsprung weight, resulting in improved performance. To complement these wheels, the models are equipped with new Continental "Sport Contact 7" 285/30 summer performance tires. These tires provide enhanced grip and contribute to precise handling, elevating the overall driving experience. Furthermore, the combination of these wheels and tires has also reduced the braking distance by up to 2 meters at 62 mph, ensuring even greater safety and control.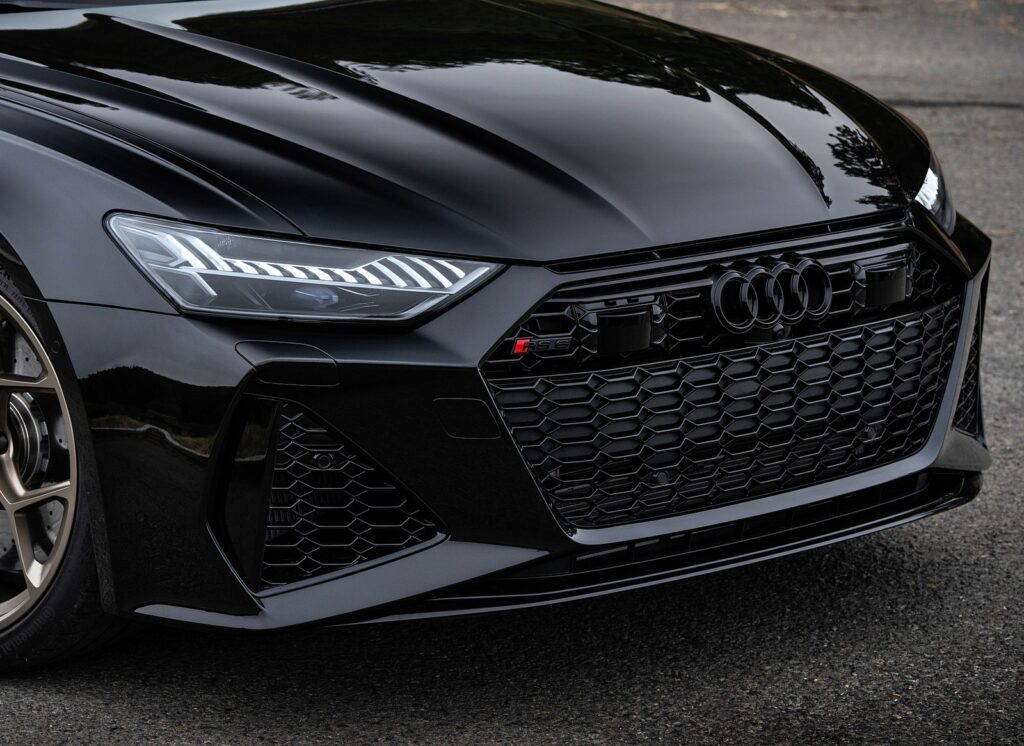 Luxurious and Driver-Centric Interiors
The interior of the RS 6 Avant Performance and RS 7 Sportback Performance is equally impressive, offering a combination of style and functionality. Audi provides the option of the new RS design package plus, available in three captivating colors: gray, red, and blue. This package adds personalized touches to the cabin, further enhancing the overall aesthetic appeal.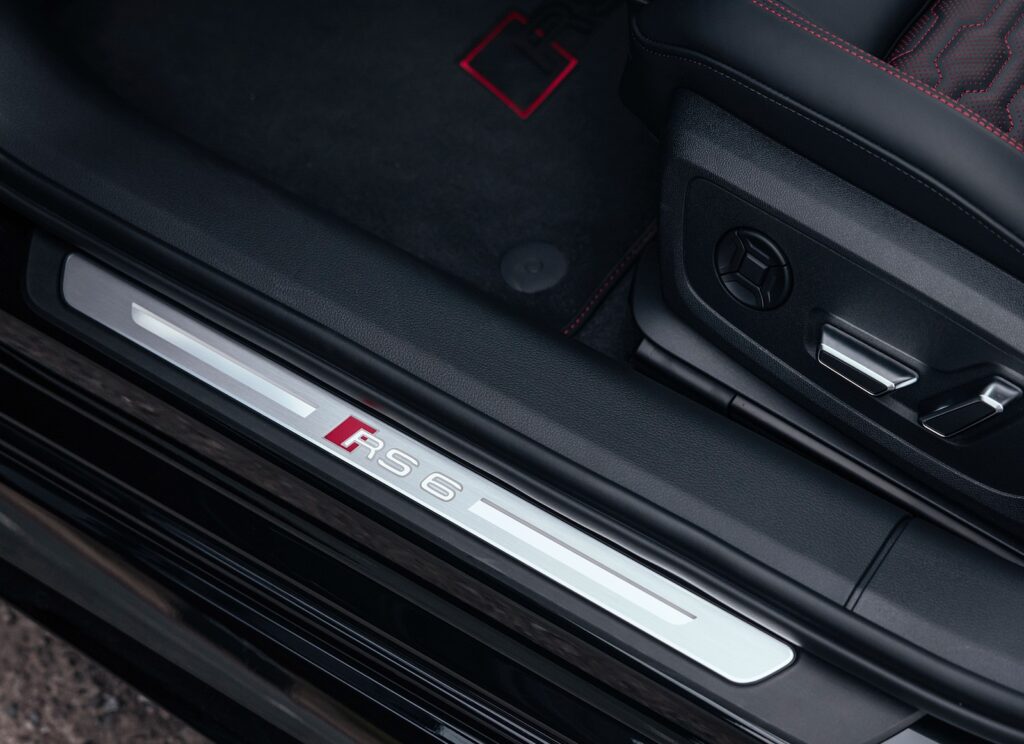 Moreover, these models are equipped with the advanced 12.3-inch Audi virtual cockpit plus, which introduces a range of new features to elevate the driving experience. One notable addition is the shift indicator, which guides the driver by indicating the optimal time to change gears in manual transmission mode. This feature ensures that the driver can extract the maximum performance from the vehicle. Additionally, a Launch Control feature is included, which assists in achieving the perfect start by signaling the ideal moment to accelerate off the line, delivering an exhilarating burst of speed. These features not only enhance the performance potential but also contribute to an engaging and immersive driving experience.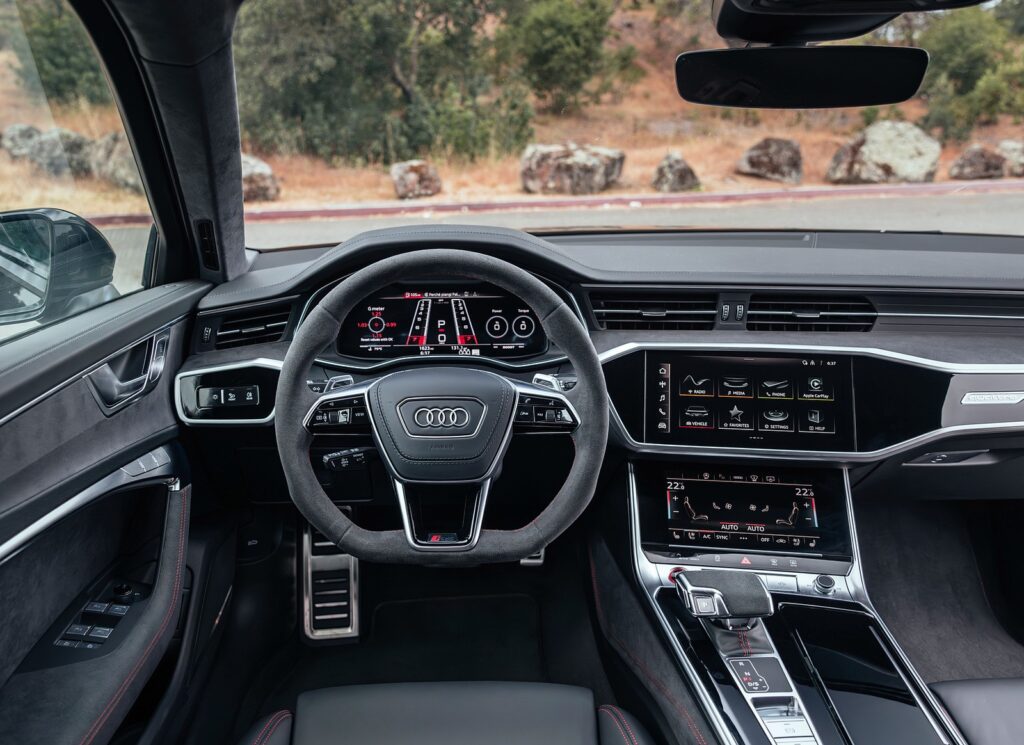 Exclusive Bronze Edition
Audi has recently introduced an exclusive Bronze edition of the RS 6 Avant Performance and RS 7 Sportback Performance models, specifically tailored for the U.S. market. This limited edition further enhances the already exclusive nature of these high-performance vehicles. With only 125 units scheduled for production, the Bronze edition is a rare and sought-after variant.
The Bronze edition boasts an impressive list of standard equipment, providing an elevated level of luxury and performance. To accentuate its distinctive appearance, this edition is finished in Sebring Black crystal effect paint, exuding a sense of sophistication and allure. The exterior is complemented by matte neodymium gold 22-inch wheels, which not only add a touch of glamour but also draw inspiration from the world of motorsport, reflecting Audi's commitment to dynamic performance.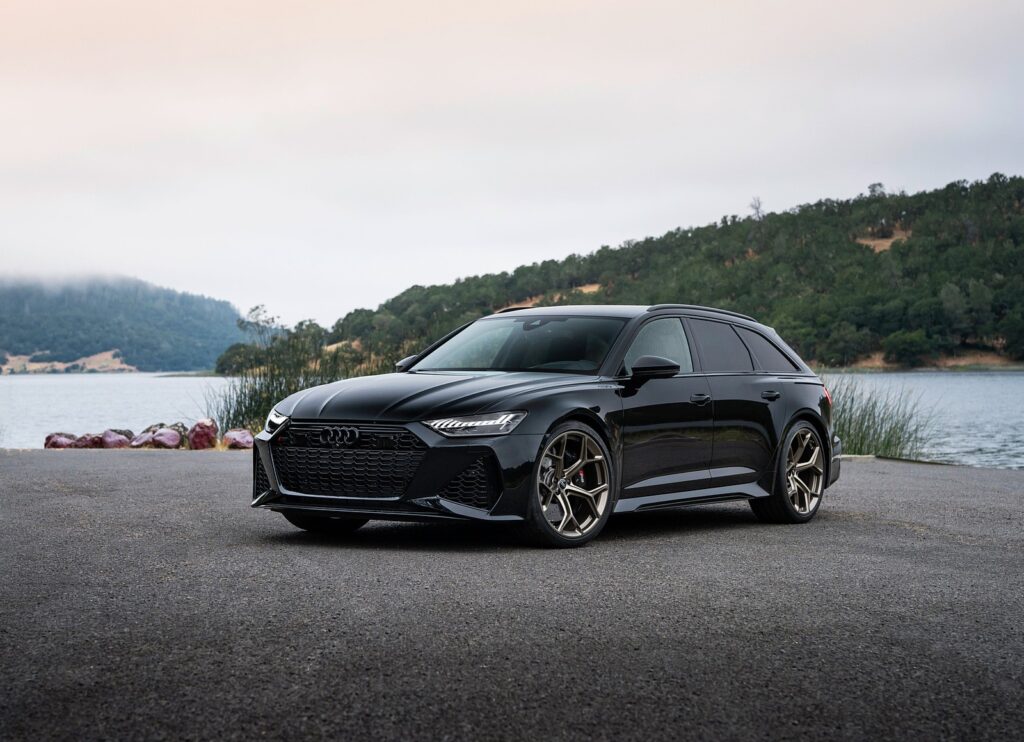 The Verdict
Audi has unquestionably raised the bar with the 2024 RS 6 Avant Performance and RS 7 Sportback Performance models, pushing the boundaries of what their portfolio can achieve. These vehicles offer a compelling package for automotive enthusiasts, combining increased power, enhanced dynamic capabilities, and unique design elements.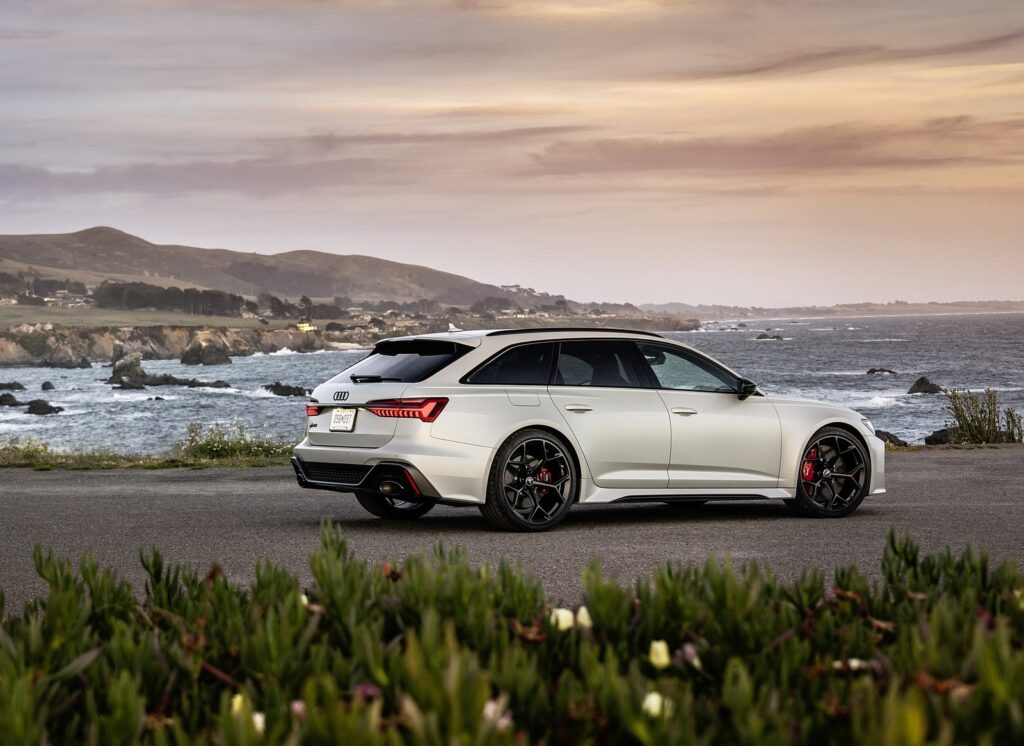 Priced at $125,800 for the RS 6 Avant Performance and $127,800 for the RS 7 Sportback Performance, these models represent the culmination of Audi's relentless pursuit of performance and exclusivity. The price tag reflects the exceptional engineering, craftsmanship, and advanced features that these high-performance vehicles embody.
With their formidable performance, luxurious appointments, and limited availability, the RS 6 Avant Performance and RS 7 Sportback Performance deliver an unparalleled driving experience for those who seek the thrill of the open road. These models truly embody Audi's commitment to pushing the boundaries and providing automotive enthusiasts with an extraordinary driving experience that blends power, precision, and exclusivity.