A Closer Look at the 2024 BMW X1 M35i xDrive
BMW has raised the stakes in the compact Sports Activity Vehicle (SAV) category with the arrival of the 2024 BMW X1 M35i xDrive. Unveiled in June 2023, this premium edition embodies the distinctive M performance essence, setting a new standard in the realm of compact SAVs. However, does this fresh iteration match the acclaim of its forerunner? Let us explore the specifics.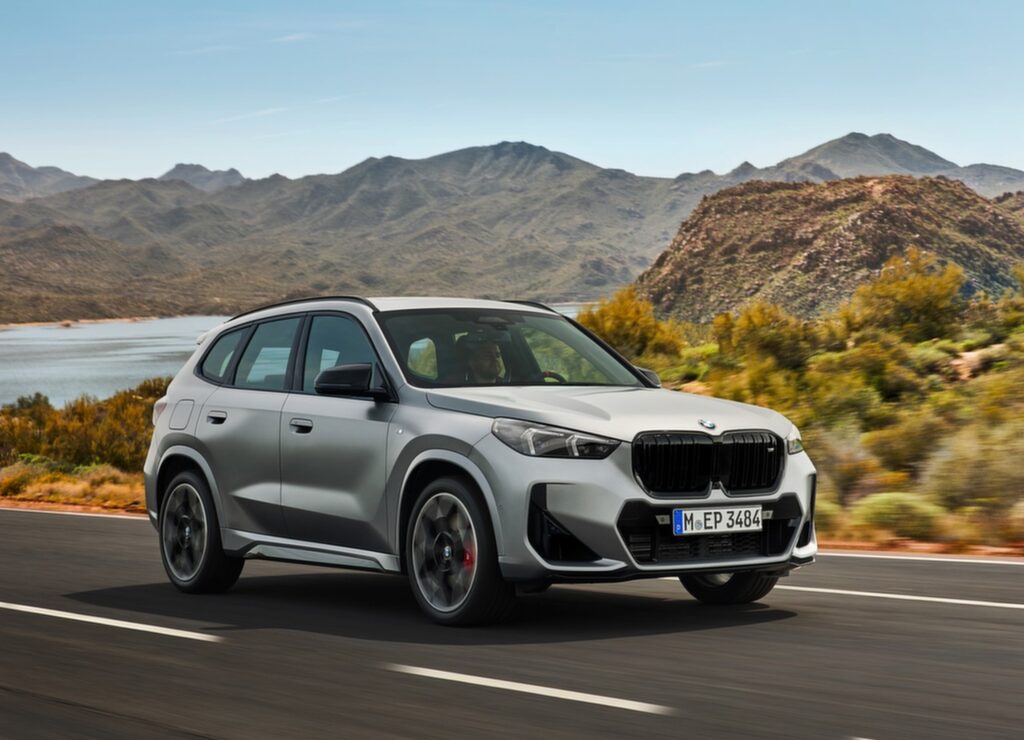 Under the Hood: Performance and Power
Underneath the hood, the 2024 BMW X1 M35i xDrive accommodates a cutting-edge 2.0-liter 4-cylinder engine, representing BMW's latest generation of Efficient Dynamics powertrains. Harnessing the prowess of M TwinPower Turbo technology, this power plant commands an impressive output of 312 horsepower and 295 lb-ft of torque, positioning it as the most potent 4-cylinder engine in BMW's current lineup. Consequently, the vehicle can effortlessly sprint from 0 to 60 mph in just 5.2 seconds, showcasing remarkable acceleration capabilities. With a top speed electronically limited to 155 mph, the X1 M35i xDrive delivers heightened performance and agility, ushering in a new era of driving excitement.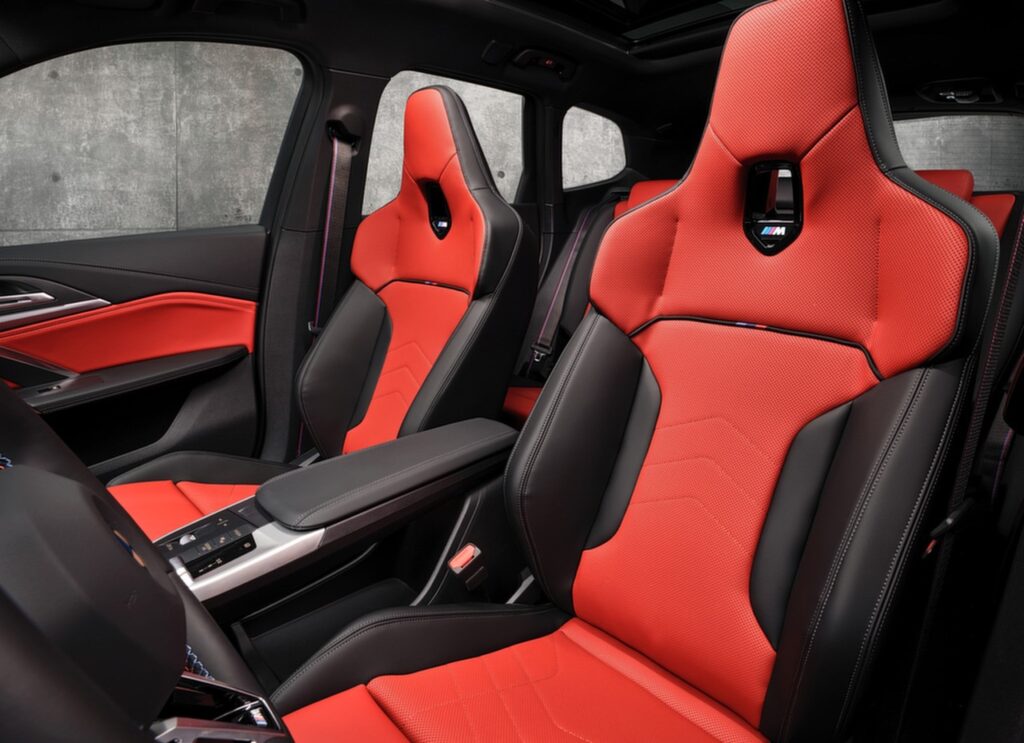 A Fusion of Agility and Sophistication
The latest X1 M35i xDrive seamlessly merges its high-performance capabilities with an enhanced visual allure. Boasting an exclusive design and a host of premium features typically reserved for high-performance vehicles, this new iteration proudly showcases four exhaust tailpipes, offering a striking visual statement. Additionally, customers have the option to indulge in M Sport seats adorned with illuminated M logos, adding a touch of sophistication to the cabin. Not only is the X1 M35i xDrive aesthetically upgraded, but it also introduces cutting-edge digital technology. Making its debut in this model is the latest iteration of BMW iDrive, incorporating the innovative BMW Operating System 9 for a seamless and intuitive user experience.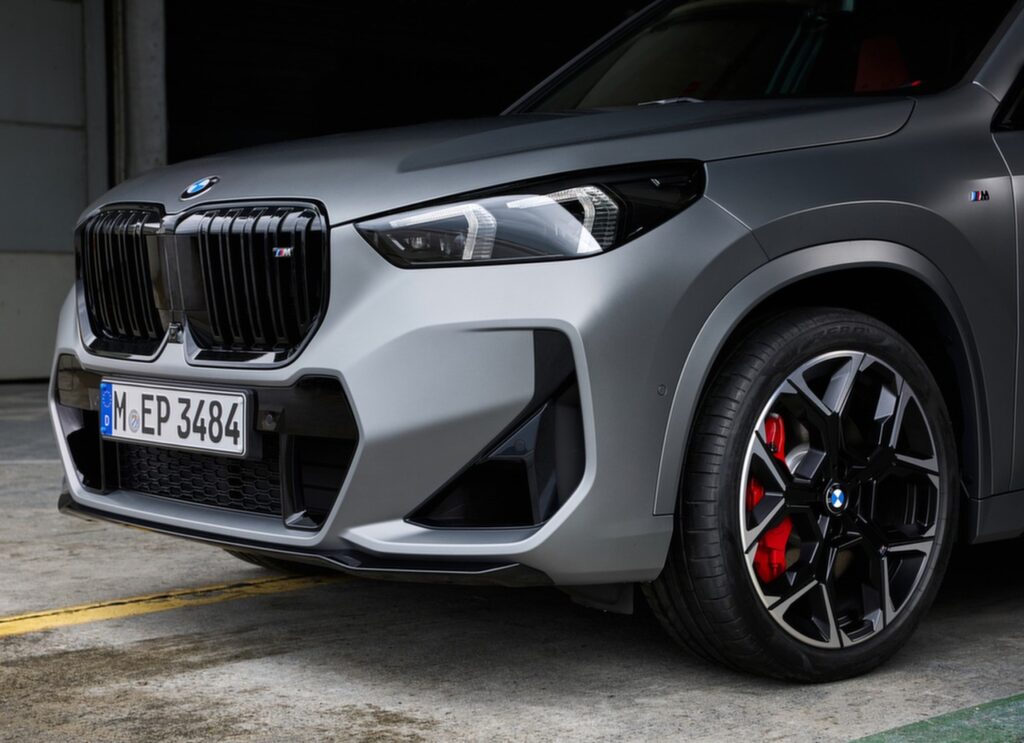 Uncompromising Handling and Control
The 2024 X1 M35i xDrive combines the best of M-specific chassis technology with BMW's intelligent xDrive all-wheel drive system, resulting in exceptional performance and handling dynamics. Notably, this model stands as the first M performance variant to offer optional M Compound brakes, underscoring its emphasis on control and safety. However, what may captivate discerning drivers is the inclusion of near-actuator wheel slip limitation technology. This integration within the engine management system enables more precise corrective inputs, elevating traction, stability, and agility to new levels. This advanced technology ensures that the X1 M35i xDrive delivers a thrilling and confident driving experience.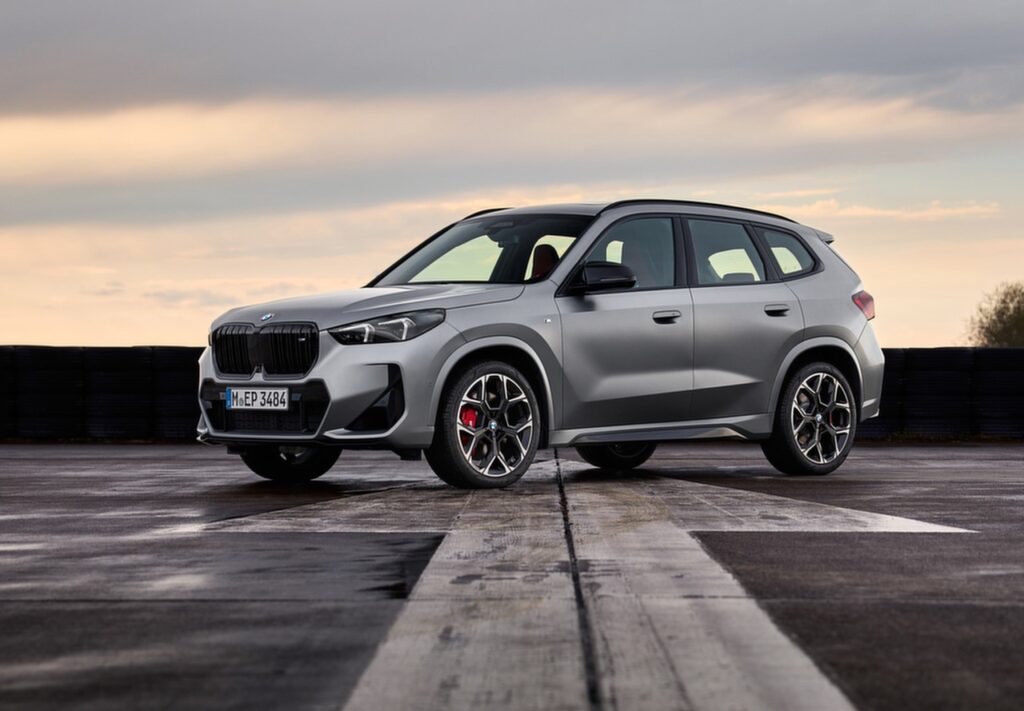 Exquisite Exterior and Interior
In addition to its impressive performance, the 2024 BMW X1 M35i xDrive commands a stronger presence both inside and out. The exterior design incorporates distinctive M-specific elements, including a bold M kidney grille with vertical double bars, M exterior mirror caps, and four exhaust tailpipes, alluding to its enhanced performance capabilities. Stepping inside, the cabin delivers a high-performance experience with notable features such as an Alcantara-trimmed instrument panel, an M leather steering wheel equipped with shift paddles, M-specific graphics, and the option for M Sport seats. However, it is valid to question whether the focus on aesthetics compromises the model's practicality and comfort, particularly during extended journeys.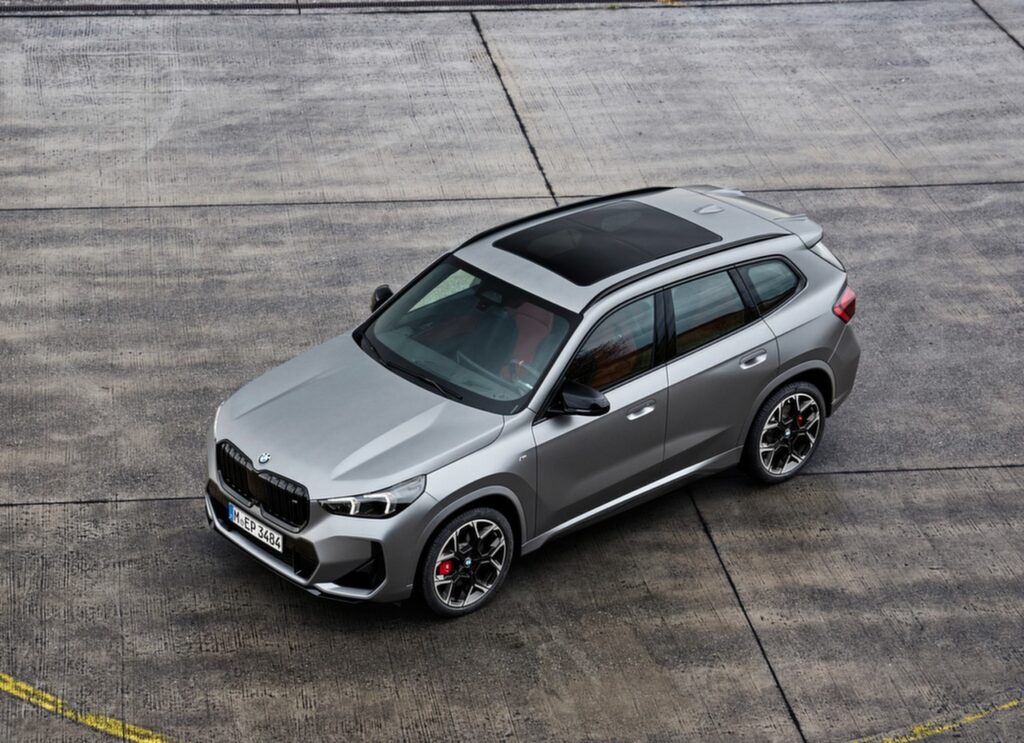 Going Beyond Performance
The 2024 BMW X1 M35i xDrive takes a leap forward in terms of digital technology. It proudly debuts the new BMW iDrive with QuickSelect and BMW Operating System 9, setting a new standard for intuitive and user-friendly interfaces. The model comes equipped with dual-zone automatic climate control, BMW Live Cockpit Plus, and a Harman Kardon premium sound system as standard features, enhancing comfort and entertainment on the road.
In the realm of safety and driver assistance, the X1 M35i xDrive offers a range of cutting-edge systems. Frontal Collision Warning, Active Blind Spot Detection, and Lane Departure Warning are just a few examples of the advanced driver assistance systems available, providing both convenience and safety. Furthermore, the standard Parking Assistance Package incorporates Surround View cameras and Active Park Distance Control, facilitating maneuvering and parking in various scenarios.
For those interested in autonomous driving capabilities, the model offers the optional Driving Assistance Professional Package. This package includes the Extended Traffic Jam Assistant, enabling limited autonomous driving on highways with restricted access, further enhancing convenience and reducing driver fatigue in certain situations. The 2024 X1 M35i xDrive combines technological advancements and safety features to deliver a comprehensive driving experience.
BMW iDrive with QuickSelect and Operating System 9
An outstanding feature of the new BMW X1 M35i xDrive is its integration of the updated BMW iDrive control/operation system, showcasing QuickSelect and BMW Operating System 9. This advanced technology offers users a more intuitive and comfortable experience when selecting and operating various functions and digital services.
The enhanced BMW iDrive system presents a redesigned home screen and incorporates QuickSelect functionality. Taking design inspiration from consumer electronics, the improved menu structure ensures easier access to digital content, further enhancing the confident driving experience of the X1 M35i xDrive.
At the heart of this system lies the BMW Operating System 9, enabling faster function updates, a broader range of digital content for information and entertainment, and improved access to various online services. With the inclusion of the BMW Curved Display and the BMW Intelligent Personal Assistant, the iDrive system with QuickSelect ensures seamless operation through the use of the touchscreen and natural language commands. Together, these features provide a streamlined and user-friendly interface for an elevated driving experience.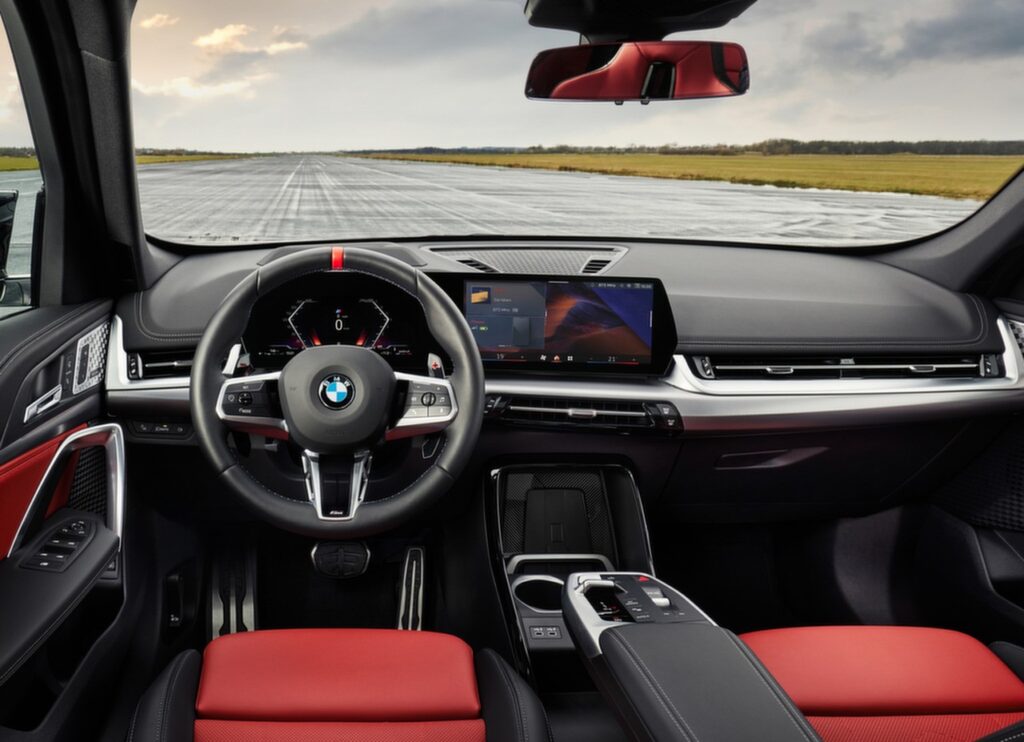 Home Screen and Menu Structure
BMW Operating System 9's home screen is thoughtfully designed to prioritize the navigation system's map view or customizable graphics. Additionally, function icons are arranged vertically on the driver's side of the controlled display, ensuring easy navigation and accessibility. Thanks to the QuickSelect feature, users can directly access desired functions without having to navigate through submenus. By simply tapping on the home icon, users can swiftly return to the home screen, which now offers direct access to climate control, the All Apps menu, and activate features such as Apple CarPlay and Android Auto.
In line with BMW's commitment to driver-focused design, the flat menu structure enhances convenience when activating functions and adjusting settings. The graphical interface and menu layout maintains a consistent brand-characteristic design, enabling intuitive operation even while on the move. This seamless and user-friendly interface ensures that drivers can effortlessly interact with the vehicle's features and settings, enhancing the overall driving experience.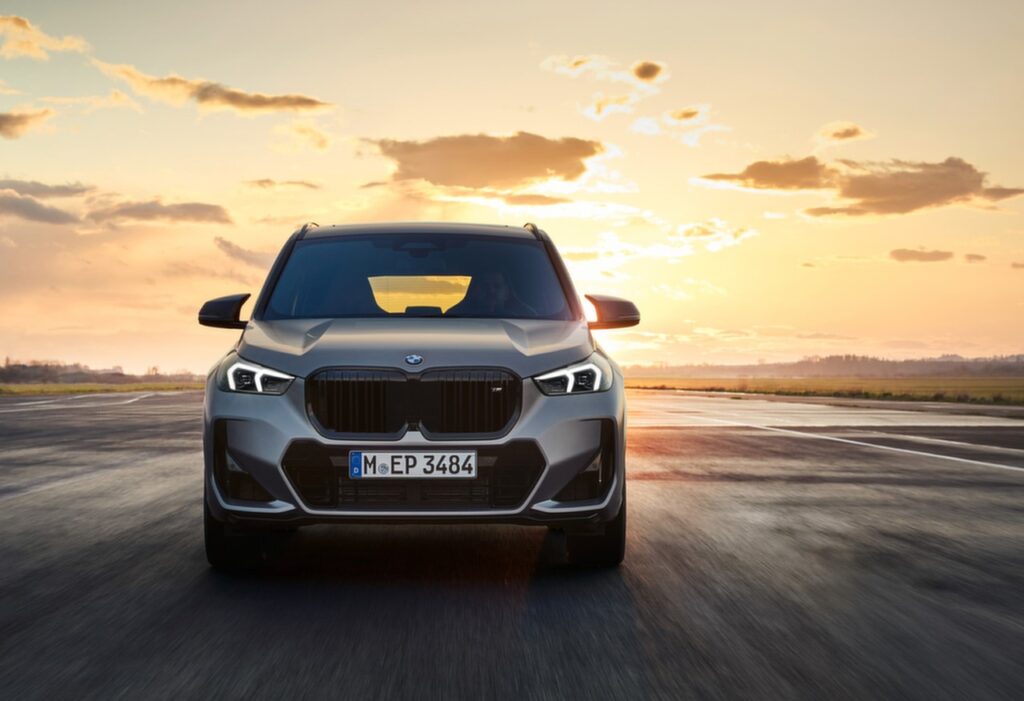 Expandable Range of Digital Services
The new BMW X1 M35i xDrive is equipped with the latest generation of BMW Maps, a cloud-based navigation system, as standard in the updated BMW iDrive system. Alongside this feature, it includes a range of previously introduced services and apps such as the BMW Intelligent Personal Assistant, voice-controlled assistants, BMW ConnectedDrive Store, BMW Remote Software Upgrades, and smartphone integration through Apple CarPlay and Android Auto. The inclusion of My Modes allows drivers to personalize and customize their driving experience further. For those looking to embrace the latest mobile technology, opting for the optional Personal e-SIM ensures compatibility with 5G networks.
BMW Operating System 9 also introduces the BMW Digital Premium offering, providing a highly customizable selection of additional digital services. This includes access to an expanded BMW ConnectedDrive Store, where users can subscribe to various apps for music streaming, news, gaming, and more. Additionally, it enhances BMW Maps navigation functions, extends the capabilities of the BMW Intelligent Personal Assistant, and offers additional My Modes for customization. Customers have the flexibility to choose between monthly or annual payment plans to tailor their selection of digital services according to their individual preferences and needs. This comprehensive suite of digital offerings enhances the overall driving experience and allows drivers to personalize their vehicle's digital ecosystem.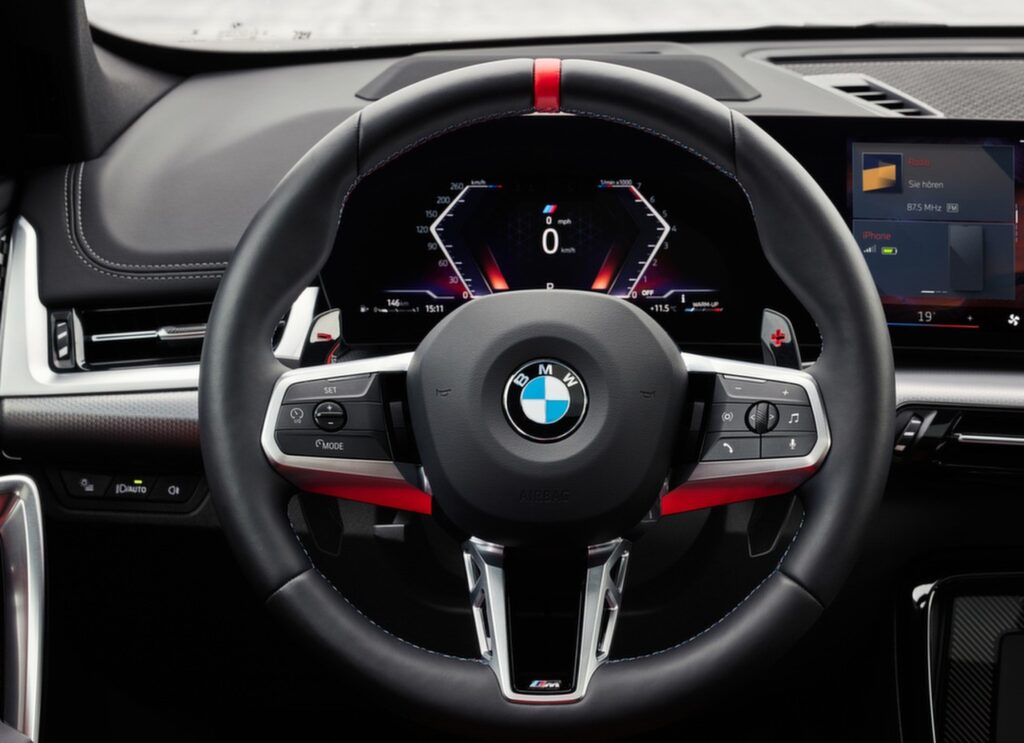 Verdict
The 2024 BMW X1 M35i xDrive stands out as a compelling choice within the compact SAV market, seamlessly blending performance, luxury, and advanced technology. With its powerful turbocharged engine, sophisticated design elements, and cutting-edge features such as the latest iDrive system with QuickSelect and Operating System 9, the new X1 M35i xDrive exemplifies BMW's commitment to continuous innovation. It offers a distinctive combination of intuitive control, customizable digital services, and an immersive high-tech driving experience, solidifying its position as a premium offering in its segment. For those in search of a dynamic, technology-rich, and luxurious compact SAV, the 2024 BMW X1 M35i xDrive is a model that merits serious consideration.