The 2024 Mercedes-Benz E-Class: A Fusion of Tradition and Modernity
Mercedes-Benz has recently introduced the 2024 E-Class, a timeless three-box sedan boasting a spacious interior and a range of cutting-edge advancements. The latest E-Class model spans 194 inches in length, 75 inches in width, and 58 inches in height, accompanied by a wheelbase of 116.57 inches, which is 0.87 inches lengthier than its predecessor. These expanded dimensions result in a trunk capacity of up to 19 cubic feet, providing ample room for storage.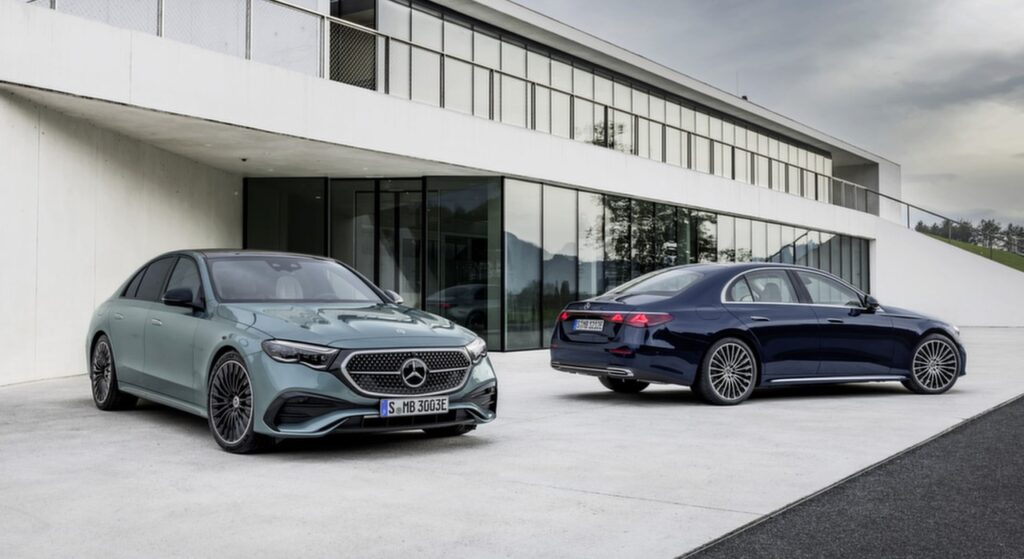 Radiator Grille and Black Panel-Like Surface
A notable highlight of the new E-Class is the eye-catching high-gloss black panel that seamlessly links the radiator grille to the headlamps, evoking the aesthetic found in Mercedes-EQ models. The radiator grille itself showcases a dynamic three-dimensional design, offering a progressive look. Additionally, all lines of the E-Class have the option to incorporate an illuminated surround, further enhancing the visual appeal.
MBUX Superscreen and New Electronic Architecture
The dashboard of the new E-Class boasts the impressive MBUX Superscreen, accompanied by an optional front passenger screen, creating an immersive digital experience. The central and optional passenger displays now feature simplified and color-coded main icons, aligning with smartphone aesthetics. With a more software-oriented electronic architecture, the latest E-Class leverages a robust central onboard computer, resulting in enhanced performance and faster data stream speeds for both the screens and the MBUX infotainment system.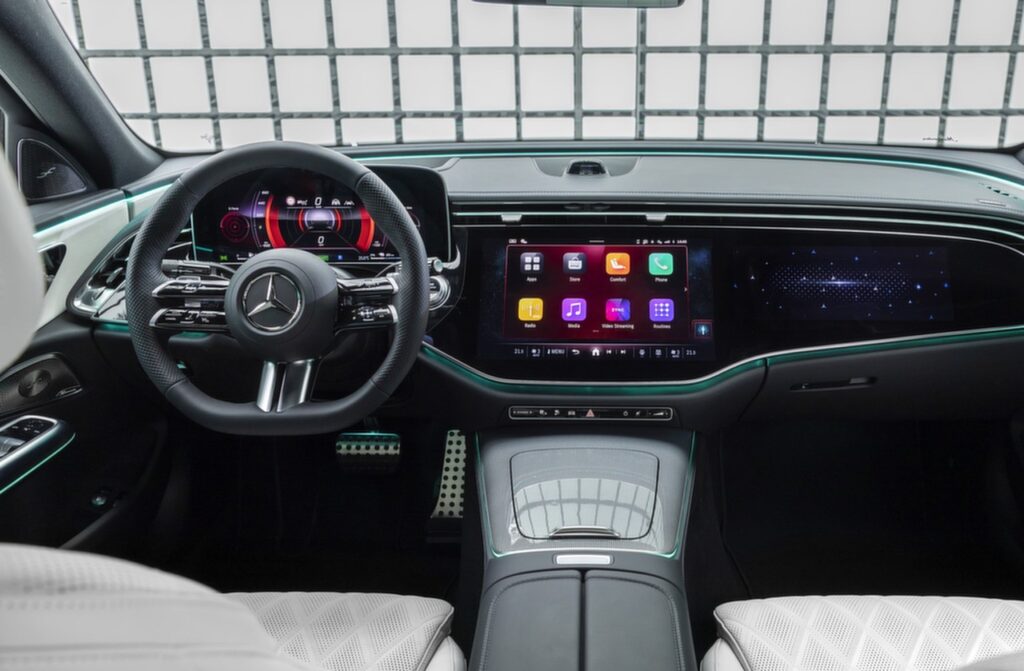 Sound Visualization and New Third-Party Apps
For an enhanced sensory experience, the new E-Class offers the optional Active Ambient Lighting with Sound Visualization feature, enabling occupants to visually perceive music tracks and sounds from movies or applications, creating a distinct visual spectacle. The entertainment options in the E-Class have been expanded to include popular third-party apps like TikTok, Angry Birds, Webex, Zoom, and the Vivaldi browser, providing a more interactive entertainment program. Additionally, an optional selfie and video camera, seamlessly integrated with the MBUX Superscreen, offers additional versatility for capturing memorable moments and recording videos.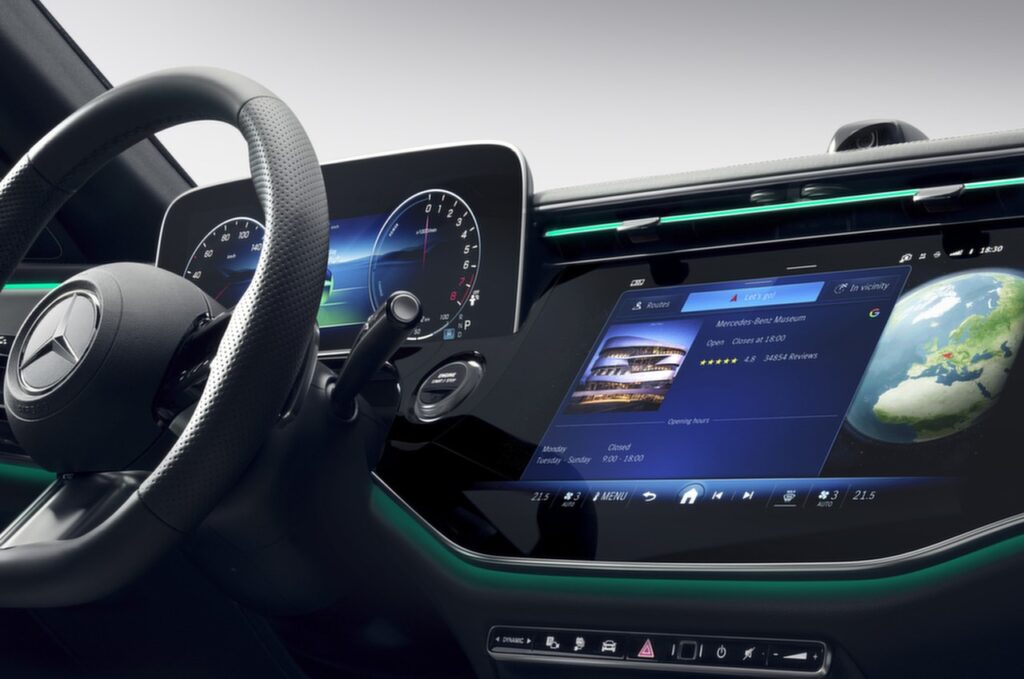 Automated Comfort Functions and Intelligent Blocking Concept
Mercedes-Benz is incorporating artificial intelligence (AI) to gather insights on the comfort systems frequently utilized by occupants, with the goal of automating these functions as part of a feature called 'routine.' This intelligent system learns from user preferences and automates repetitive tasks for enhanced convenience. The passenger screen in the new E-Class employs an advanced filtering concept that ensures the driver's focus remains undisturbed by dynamic content like TV shows or video streaming while driving, prioritizing safety and minimizing distractions on the road.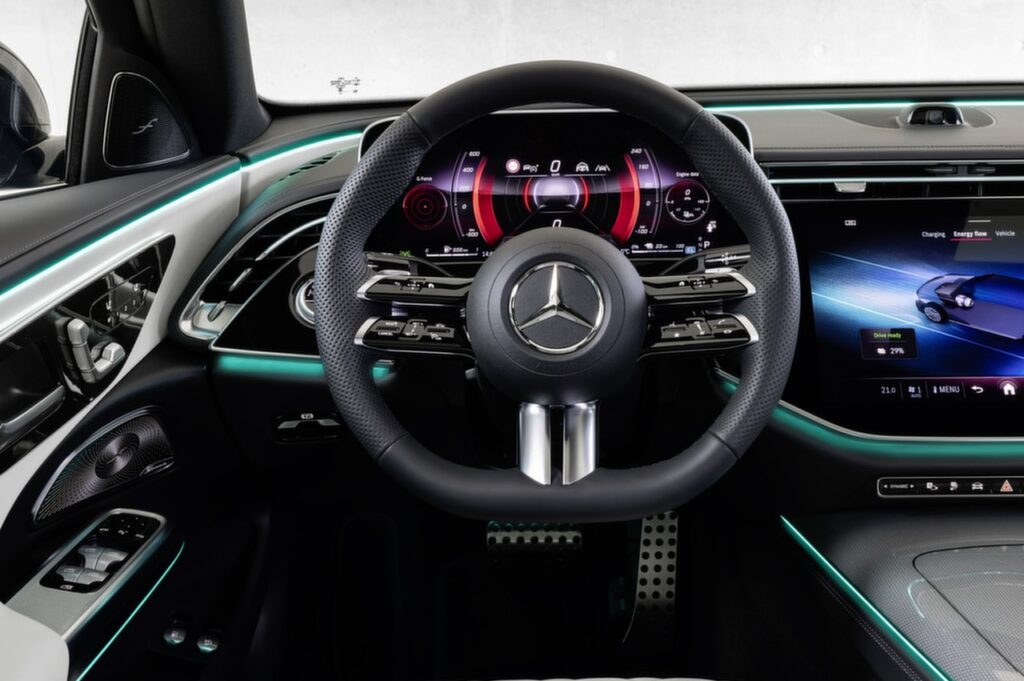 Aerodynamics and Rear-Axle Steering
The new E-Class maintains its predecessor's impressive performance by achieving a Cd figure of 0.235, showcasing its aerodynamic excellence within its vehicle segment. Additionally, with the option of rear-axle steering, the new E-Class gains exceptional agility and stability. With a rear axle steering angle of 4.5 degrees, the vehicle's maneuverability is significantly enhanced, reducing the turning circle by up to 35.4 inches. These features contribute to a dynamic driving experience and improved handling capabilities for the E-Class.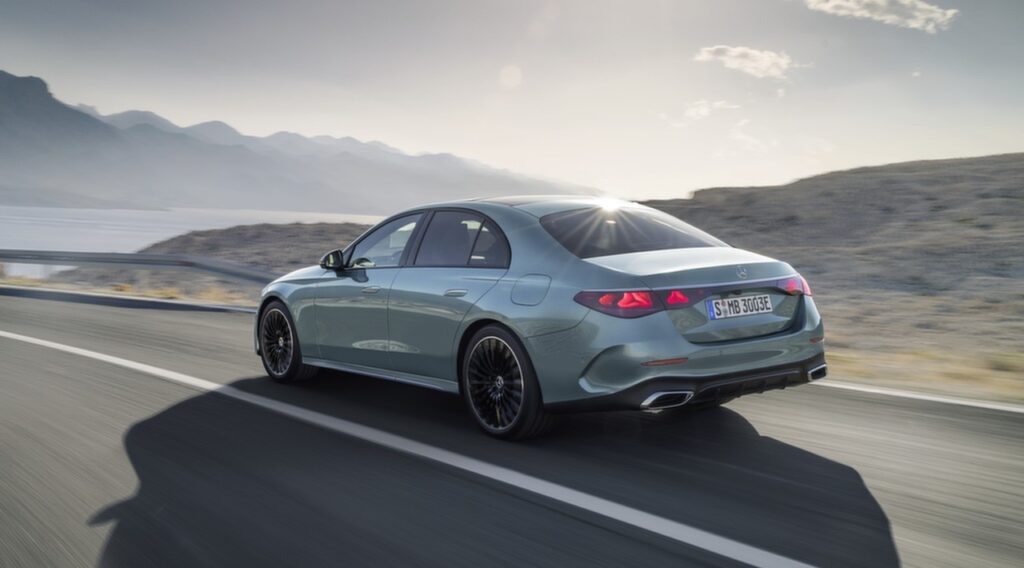 ATTENTION ASSIST and Resource-Conserving Materials
The ATTENTION ASSIST system integrated into the new E-Class is designed to detect signs of driver fatigue, such as microsleep or distractions. It provides both acoustic and visual warnings to alert the driver. In the event that the driver does not respond, the system can initiate an emergency stop to enhance safety.
Furthermore, the new E-Class embraces sustainability by incorporating various components made from resource-saving materials. For instance, the foam used in the seats is made from certified recycled raw materials, highlighting the commitment to utilizing eco-friendly materials in the vehicle's construction. This contributes to reducing the environmental impact of the E-Class.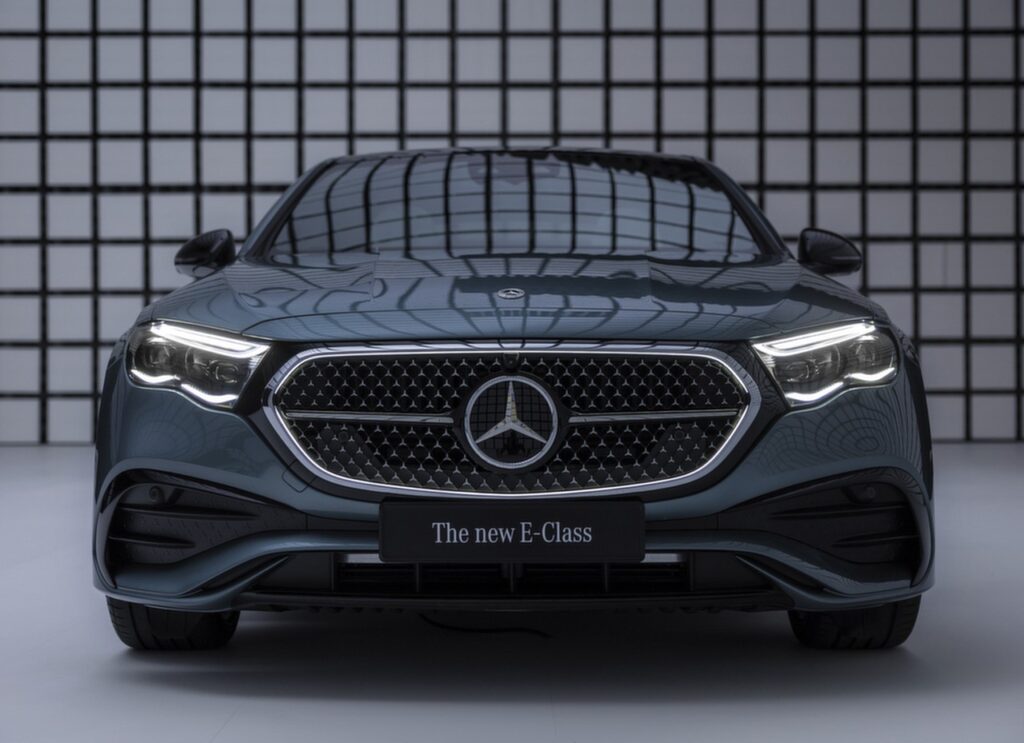 U.S. Models: E 350 4MATIC and E 450 4MATIC
In the United States, Mercedes-Benz will introduce the 2024 E-Class with two powertrain options: the E 350 4MATIC and E 450 4MATIC. The E 350 4MATIC is equipped with a 1,999cc displacement engine that delivers 255 horsepower at 5,800 rpm. On the other hand, the E 450 4MATIC features a 2,999cc displacement engine producing 375 horsepower within a range of 5,800-6,100 rpm. Both models offer an additional 22 horsepower of output through a boost function. The top speed for both models is electronically limited to 130 mph.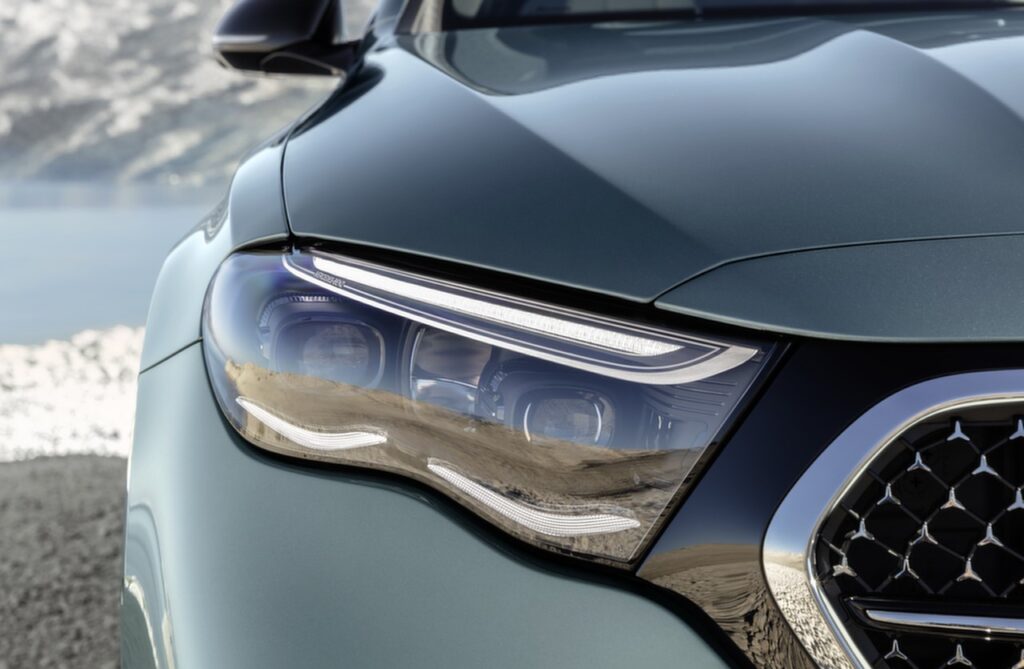 Resource-Conserving Materials
Mercedes-Benz has prioritized sustainability in the development of the 2024 E-Class by incorporating resource-saving materials. The vehicle utilizes recyclable and renewable raw materials in various components as part of this commitment. Notably, the foam used in the seats is made from certified recycled raw materials, employing a "mass balance approach." This approach ensures that the properties of the foam remain unchanged compared to foam produced from crude oil, maintaining the high-quality standards expected from Mercedes-Benz. By implementing such measures, the E-Class demonstrates a conscious effort to reduce environmental impact without compromising on performance or comfort.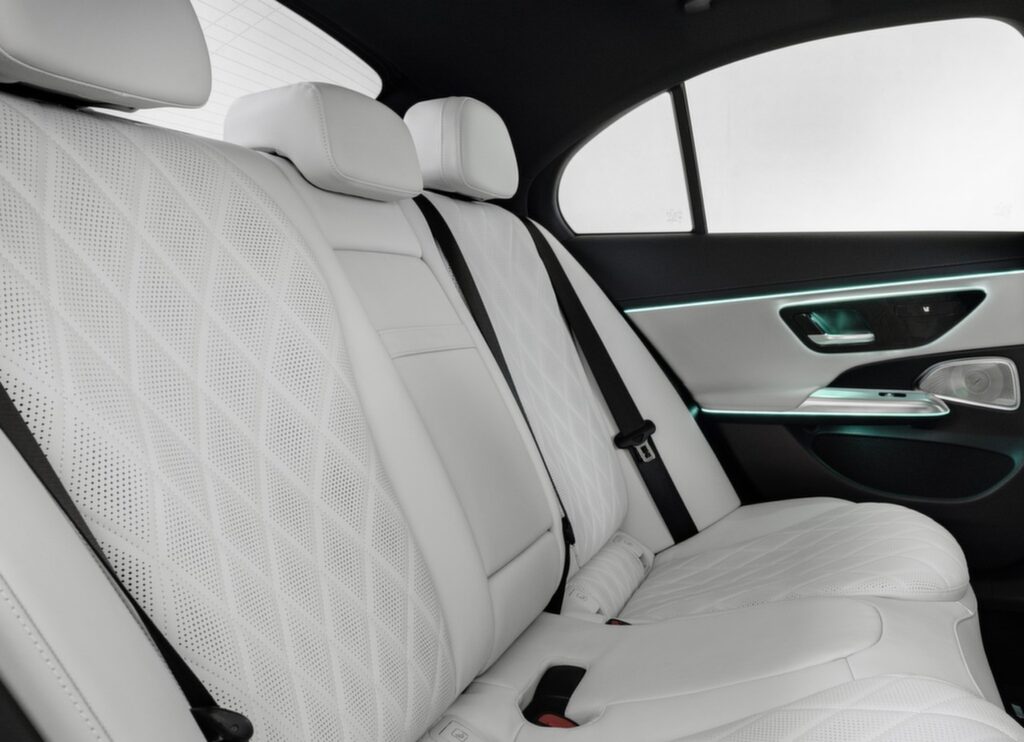 Interesting Facts & Figures
The 2024 Mercedes-Benz E-Class showcases an array of captivating features, including the option of an illuminated radiator grille surround, customizable screen graphics, a 5G communication module, and the ability to create personalized MBUX routines. With a commendable Cd value of 0.231 and a slightly larger frontal area compared to its predecessor, the new E-Class achieves excellent aerodynamics. Mercedes-Benz's dedication to delivering a quiet and comfortable ride is evident in the meticulous aeroacoustics development work involving nearly 500 microphones.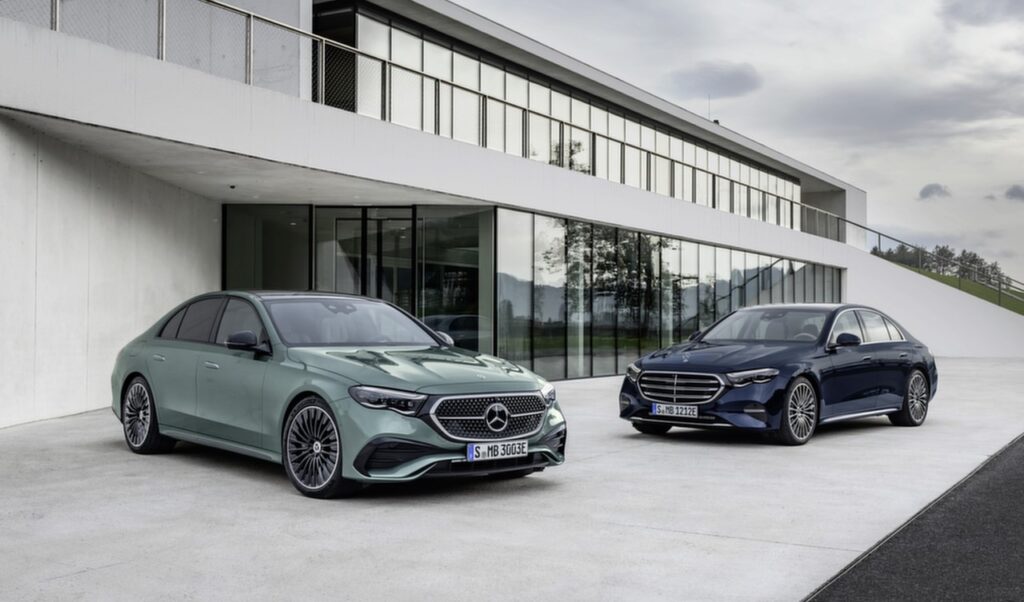 In summary, while prioritizing sustainability, the 2024 E-Class impresses with its integration of innovative technologies, advanced safety features, and remarkable performance. With its blend of style and substance, the new E-Class stands as a formidable contender in the luxury sedan segment, captivating potential buyers with its enticing offerings.